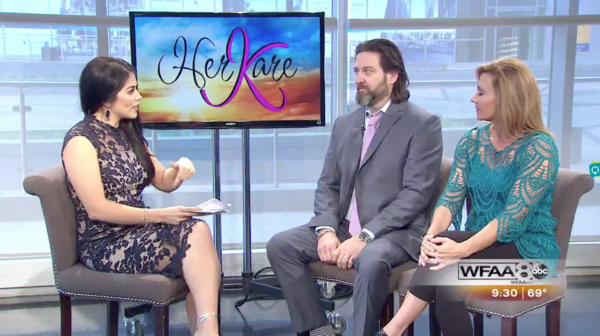 Only one place in Texas, HerKare, is offering this skin tightening without surgery using the Vivace Method and right now they have a SUPER deal TODAY ONLY! Get 3 for $1500 as they suggest 3 treatments for best results)! Call 817-488-6205 for information or to book your appointment!
It's called Vivace Microneedling method and brand new to Texas! HerKare, is one of the first to offer this wrinkle alleviating procedure and they are offering a SUPER deal!
Get 3 for $1500.  This is a super deal with over $200 off each treatment.  Call 817-488-6205 for more information or to book your appointment!
I was lucky enough to try the Vivace machine on Tuesday so I could share my experience on Good Morning Texas. Watch the video below to learn more.  If you can't see the video, just go here.
What I love the most is that this process promotes collagen, you know, that good stuff that we have plenty of when we are young. I am noticing some big changes around my mouth and the process is NOT painful. They numb your face and it feels like a pin prick but nothing that causes pain. I walked out of the office and no one would have known I had a thing done to my face besides the shiny lotion they put on your face that you wear for 4-6 hours afterward.
What does it treat?
The microneedling procedure can be used to treat any area of the body. Most commonly, it is used for the following:
Tightening of fine lines and wrinkles
Creating uniform tone and texture
Improving contour
Restoring youthful appearance
Want to know more about Vivace Microneedling?
The handheld device creates tiny openings within the skin's surface. These microscopic openings, also called "fractionated injuries" can stay open for 4 to 6 hours, which is the key to a successful outcome.
The fractionated injuries stimulate your body to activate your natural wound healing process, which promotes the production of new collagen, elastin and wound contraction. When your body releases these elements, skin flaws such as uneven tone or wrinkles begin to resolve. Because the channels stay open longer with Vivace, your body has more time to produce collagen, ultimately improving your skin's appearance.
Vivace operates similarly to that of previous microneedling systems. However, it differs in that it is one of the few devices to possess the correct medical clearance from the FDA. This system is also unique because:
Treatment can be customized depending on individual patient needs
Topical anesthetic is used
Ability to change frequencies and depth of penetration to achieve different results
Minimally invasive when compared to other skin treatments
Vivace provides excellent results for patients looking to improve the appearance of their skin, placing heavy emphasis on patient comfort.
If you are looking for something to bring that youth back, I highly recommend the Vivace Method.