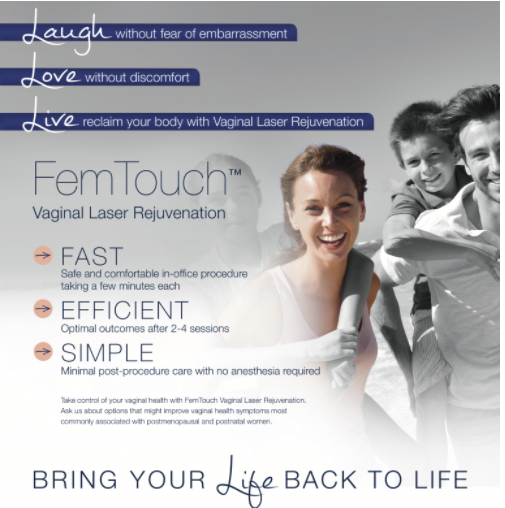 So this post is going to get kind of personal…probably something none of us like to talk about openly, but the fact is… it happens.  We are talking about vaginal health (I'm calling it the hoohah from here on out).
No longer do we need to deal with incontinence, dryness, atrophy or vaginal laxity.  Yeah, not a fun topic, but guess what, a lot of us have these symptoms and now there is something out there that can help and I've personally witnessed it changing women's intimate lives!
It's called FemTouch Laser Rejuvenation and it's being offered at HerKare!  There is an inner procedure and an outer procedure. Yep, talk about a hoohah lift!
I tried the outer treatment and woah, well, I'm just gonna say, IT WORKS!
So what is FemTouch?
It promotes the remodeling of the vaginal mucous layer.  The fractional C02 laser beams are applied along the wall, resulting in the regeneration of the tissue.  The procedure is quick, no post-procedure and no anesthesia.  After you might feel a heat like sensation (what I'll call a "hot hoohah", but it's gentle and you only need 2-4 treatments.) This sensation should not last longer than a few hours.
Yep, it's FDA approved too!
The cost?
Right now you can get a special offer by telling them MyDFWMommy sent you!
Outer treatment: 3 for $600 ($200 each)
Inner treatment: 3 for $2250 ($750 each)
Call 817-488-6205 for more information or to book your appointment!
From personal experience, this has been the most life-changing for me!