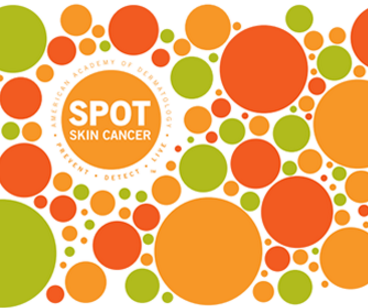 A few years ago a tiny, faint spot the size of an eraser head showed up on the side of my face. I've always had a clear, even complexion with no freckles, so this little spot really bugged me. But  I assumed it was a only sun spot and have basically been ignoring it ever since. Until over the last few months, I've noticed it's gotten bigger, darker, has uneven borders and is now raised. Yes, all those tale-tale warning signs made me ask:
Do I have Skin Cancer???
So, I googled "what does skin cancer look like" and let me warn you, if you do the same, prepare to see some pretty graphic images!
I also read some shocking statistics:
An estimated 1 in 5 Americans will develop skin cancer in their lifetime.
Nearly 9,500 people in the United States are diagnosed with skin cancer every day.
On average, one American dies from melanoma every hour.
Gosh, those numbers made me reconsider my laissez-faire attitude toward this growing spot on my face.
In my online searching, I stumbled upon the American Academy of Dermatology website and was excited to discover that May is Skin Cancer Awareness month and dermatology offices across the country offer FREE Skin Cancer Screening through their SPOT Skin Cancer™ program.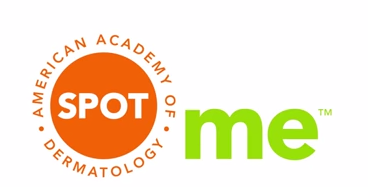 That's how I found Innovative Dermatology in Plano, TX where Laura and I are met with Dr. Carter. Watch our video below. She took a look at that pesky spot on my face (and gave me instant results!), plus will give you an idea of what you might expect at their FREE SPOT Skin Cancer™  screening day which is scheduled for May 10, 2018, from 4pm to 6pm at 8080 Independence Pkwy., Suite 150. No appointment needed. Walk-Ins welcome! If you're in the D/FW area, make plans to stop by and have any questionable spots checked.
Most skin cancers aren't found during doctor visits. They're found by people who notice a suspicious-looking spot on their own skin and then see a dermatologist.
Go HERE to find a FREE Skin Cancer Screening in your area.

Do you think you could spot a possible skin cancer? Take the Can you spot skin cancer? Quiz and see if you know what to look for.
Also, research has shown that women are nine times more likely than men to notice melanoma on others, which means women could help save their partners' lives by helping them spot skin cancer. This is especially important for men over 50 as they have an increased risk of developing melanoma compared to the general population.