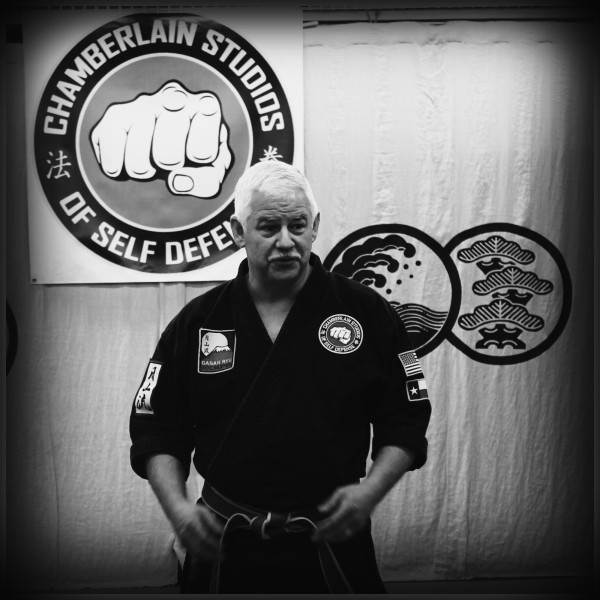 Wow, what a sense of empowerment.  Ladies, I attended a self-defense class atChamberlain Studios of Self-Defense™  with the well-known and respected Professor Nick Chamberlain! I learned so much in such a short amount of time and became MORE than impressed with the programs run by Chamberlain Studios and their outreach to help all in the community (read on for free classes for you!)!
LOOK what I learned to do!
Self-Defense Tips
I'm no self-defense expert, but here are some  self-defense tips to takeaway:
*Avoid bad situation.  Make smart choices.  Think ahead.  Use the buddy system. Meet dates in open area during daytime.  Park in open areas.
*Self defense. The key is to create space from the attacker so you can get away. Find vulnerable targets.  They eyes, neck, privates and feet.
*If someone comes after you don't put your hands in a fist.  Open hands and tell them a story that you want them to back off.
*Be aware of your surroundings.  Look at your phone when you safe in a locked car, not walking out to your car.
*Use your phone or keys as a self-defense tool if attacked.  Hit them in vulnerable areas
Want to learn more on your own:
FREE Family Fitness Day – every last Saturday: (Lakewood and Bachman locations)
Every Last Saturday Family Fitness Day occurs at both locations of Chamberlain Studios. The entire family is welcome to any of the classes below.
The Lakewood location hosts two classes:
8:45-9:15 for ages 4-6
9:30-10:15 for ages 7-11
The Bachman location hosts 2 classes:
9am-9:30 for ages 4-6
9:30-10:15 for ages 7-11
Note:  3 Steps to a Great Kid: The Chamberlain martial arts curriculum for kids and their program called '3 Steps to a Great Kid' teaches character virtues (etiquette, sportsmanship's, manners, respect) to their young students. This program truly differentiates them from all the karate schools in town as the students build character all along while building their martial arts skills.
Chamberlain Studios of Self-Defense™ is the premier provider of martial arts instruction in the Dallas Metroplex.  They offer classes for men, women and children in Kenpo Karate, Jiu-Jitsu, Aikido, Judo, and Self Defense.  With two main locations, and numerous after-school programs in the Dallas Metroplex, we are in or close to: Dallas; Farmers Branch; Carrollton; Irving; North Richland Hills; Addison; Coppell; Lewisville; Flower Mound and Plano.  Our primary mission is to bring you  The Best in Martial Arts™, featuring modern techniques combined with traditional training methods.
They offer a family-oriented training environment that provides a variety of programs
and classes for both children and adults.