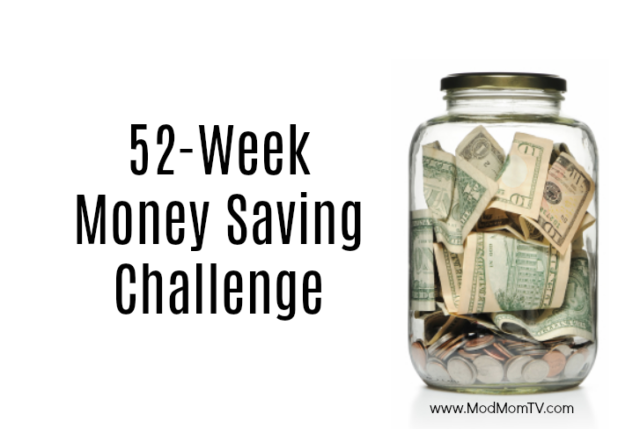 It's the New Year! And that probably means one word is on your mind: RESOLUTIONS. If one of your goals is to have more money in your pocket at the end of 2018 than you did at the beginning of 2018, we've got an idea to share.
52-Week Money Saving Challenge
It's a simple concept that'll save you nearly $1,400 by the end of the year! Here's how the 52-Week Money Saving Challenge works: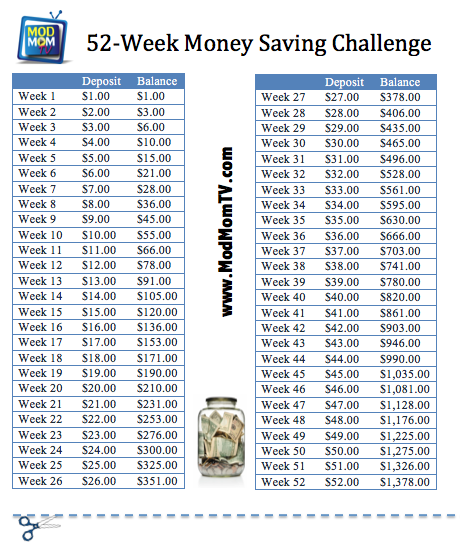 Grab yourself a sturdy jar
 Print the chart HERE and tape it to the jar.
On Week 1, place $1 in the jar. On week 2, put $2. On week 3, you guessed it, $3 goes in the jar… and so on and so forth throughout the year, adding one more dollar to each week's savings goal.
At the end of week 52, you'll have an extra $1,378 saved in the jar.
Spend your extra money on a vacation, pay those 2018 Christmas bills or keep on saving and watch it accumulate.
This is an easy way to remind yourself to save a little extra weekly, so you can end up with a huge savings at the end of the year.
Plus, it's a tangible activity your kids can participate in and actually see the savings grow week over week!
Now, if the 52-Week Money Saving Challenge seems daunting, here's another easy way to save money in 2018.
365 Day Penny Challenge
Click HERE print the image below, then tape it to a jar. On Day 1, just save $0.01, on Day 2 $0.02…Day 3 $0.03 and so on until you get to 365 days where you'll save $3.65.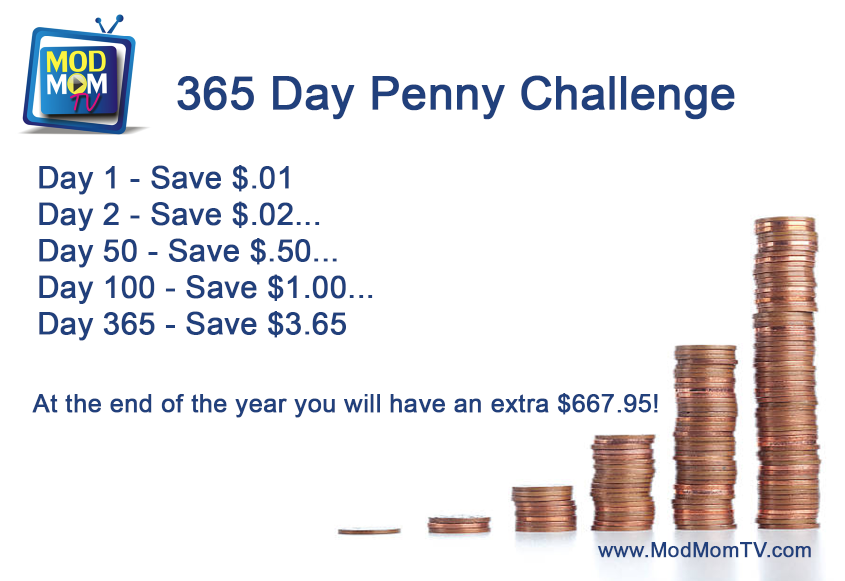 Here are 10 More Ways to Save Money in 2018!
We all want to make more money. But when you can learn how to stretch your household income, the stress of earning more money can be alleviated.
Here are some great ways to make your household income seem larger than it is…
1. Cut your Electric Bill in HALF!
Laura lives down in Houston in a 3800 square foot home with a pool. Her bills have been right around $100 for the past three months with Energy Ogre. Yes, really!
How does it work?  Energy Ogre embraces Texas deregulation and has the technology to help Texans take advantage of the statute to save substantially on energy bills!
Use this calculator to see if you are paying too much!

How many businesses do you see these days that save their members over $67 million each year???
On average 90% of us overpay for electricity in Texas. Energy Ogre can save 40-60% in less than 10 minutes, with a satisfaction guarantee. They aren't an electricity company, they are a technology company that works solely for their members to find the right price based on their energy usage.
And the service is only $10/month! Considering the average annual savings is $800-$2000, that's a great deal.
Check out this news story from Fox 4's Steve Noviello!
2. Couponing
Whether you print or clip coupons, use peels on products in the store, or contact companies directly, coupon savings can add up quickly.  50¢ here and $1 there…. you'll find that if you keep track of the money you save each month from coupons, you're saving more than you probably think! If you're new to couponing, watch Natalie's online Couponing 101 class to learn the basics and get started. You'll easily save 40-60% on your household items, which could be an extra $5,000-$10,000 annually!
3. Subscription Services
Grocery and household goods subscription services can be a life saver.  Not only are you saving time and money on gas driving to and from the store, you can take advantage of member savings AND stock your freezer or pantry.  Purchasing multiples of the items you use most when they are the cheapest eliminates the need to pay full price when you run out.
4. Buy Generic
Just because something generic doesn't have a familiar logo or name on it, doesn't mean the same active ingredients aren't in them.  Generic versions of household items, medications and food can be just as good (if not better!) than the name brand items.  Give them a shot, and you may find your grocery bill dropping even more. Quick tip – if you have picky kids, try buying generic foods equivalent to what they prefer, and keeping the name brand box.  After it's empty, replenish it with the generic version.  They probably won't tell the difference!
5. Cash Back
When you shop online you can always get great cash back deals through Ebates or TopCashBack. And use apps like Ibotta and Checkout51 get cash back on your grocery shopping.
6. Pack your lunch
Prep out your lunches on Sunday before the work week hustle begins.  Use containers like these Meal Prep Containers that keep your food fresh all week.  This will save you a ton of money and keep you from spending it on fast food, snacks or going out to eat.  That adds up quickly!  A $6 lunch every day for a year is over $2,000! You can also get a travel coffee mug to take your coffee with you, so those trips to Starbucks don't seem necessary any more, and you'll save about $30 a week!
7. Shop Gently Used Clothing
Instead of grabbing that BRAND-NEW pair of designer jeans, consider using sites like ThredUp.com.  This popular sites offers gently used, name brand clothing and accessories at super deep discounts. Bonus – they sell kids clothing, too, with prices starting at only 99¢ and new products every day!  This will save you a ton of money on your clothing budget for the year! Also, join local Facebook "garage sale" groups to buy and sell clothes, shoe, household items and more.
8. Reduce Bills & Banking Fees
Forget the cable – shut it off and opt for Netflix and a TV Antenna.  Netflix is only about $10 a month, and an antenna offers local stations for free, with the one time cost of the device for only about $20. Look over your bank statements or talk to your banker to see if there are ways to eliminate unnecessary banking costs. If you're paying monthly checking account fees, you may have other options.
9. Get Smart
Technology is your friend when it comes to using your smartphone to save money. Check out our Top 10 Apps for Saving Money.
10. Save Money Eating Out
Dining out is still considered a luxury for our family.  It's rare that we actually do it because we save more eating at home.
But there are ways to save money eating out too! And with the kids in school and parents running around from event to event, eating out is sometimes a necessity. And let's admit it, it's nice eating out because there is no prep time, no dirty dishes and no menu planning.
Here are some obvious and not so obvious ways to save money eating out:
Use the Right Credit Card
Use a cash back credit card when eating out. Getting 1-2% back may not sound like much, but the savings add up when combined with these other strategies.
Dine midweek and Early-bird specials (i.e. late lunch)
Weekends means crowds.  Many restaurants try to entice customers to dine on slower nights midweek by offering specials that can save you a lot of extra money.  Geno and I often have date nights during the week as it is less expensive eating out and cheaper getting a babysitter!
Eating before 6 p.m. can save you money with early bird specials! Most are available to all customers and offered at many dining establishments.
Kids Eat Free
Take advantage of the kids eat free offers all throughout the week.  That can be a great savings when you just have to pay for adults.  We have a full run down of places where kids eat free!
Eat Out on your Birthday
Check out these places that give you free stuff on your birthday. Free food ROCKS!
Eat at the bar or eat appetizers and sides
A number of restaurants offer a special bar menu that is considerably cheaper than the regular menu. Also, many restaurants offer a happy hour every afternoon, which includes drink specials and appetizer deals. You'll also find appetizers and sides for your meal can end up to be much cheaper as well!
Sign up for emails and text alerts
Many restaurants offer email or text programs. When a restaurant offers these programs, make sure and sign up. Often, the best discounts can be found in this way.
Discounted gift cards
Mid-priced restaurants are becoming more and more promotional in recent years in an attempt to get customers in the door. Some chain restaurants, are directly discounting their gift cards as a backdoor way of lowering menu prices. Keep an eye out for offers like a $100 gift card discounted to $80. Another option is to take advantage of gift card programs like Kroger or Thumb Thumb where you get extra gas rewards for buying the gift card.
Get social
Follow the Facebook page or Twitter feed of your favorite restaurants and eateries. Many post exclusive deals and coupons, so give these social media outlets a quick glance before heading out the door.
Search For The Discount & Local Offers
Many sites such as Groupon offer discounts on popular restaurants in your area that you can widen your palate with new options in eating out.  Many restaurants also offer discounts to senior citizens, teachers, military personnel, college students, kids/toddlers, and others.
Drink water
Restaurants depend on the profit from sodas to help them make money. On average, a soda or tea costs about $1.75 – $2.00 not including tax. Instead of ordering soda, drink tap water with your meal. You will be healthier and your wallet will be heavier.
Dine out for lunch
Lunch menus are 25% cheaper than dinner menus.  Eat your BIG meal at lunch and smaller servings/meals at dinner.
Skip Dessert
Unless you have a coupon or free dessert, skip it!  Dessert is the often most expensive part of the meal.
Know the Management
Some of the best deals happen at any restaurant when you eat there frequently. Make sure and visit with the management each time you go into the restaurant. They will appreciate your regular business and often give you additional discounts or free food as an award.
Happy Hour Specials
Some restaurants give you deals like 1/2 off appetizers or reduced-priced meals during certain parts of the day (typically from 5 – 7 PM).
Get It To Go
To avoid paying an 18-20% tip on your bill, get the food to-go from the restaurant and eat it at home.  You should ALWAYS tip at least $1-3 dollars though on your to-go bill though!
Make It A Tapa Party
If you are with friends, have everyone order an appetizer or salad for everyone to split on separate plates and then divide the check by the total amount of people.
Share a large meal
Take advantage of big portions by splitting one with a dining companion.
Frequent Eaters Discounts
Many chains offer discounts to diners who eat there often. Keep these cards in your wallet or purse so when you decide to eat there at the last moment you have the card handy.
Eat beforehand