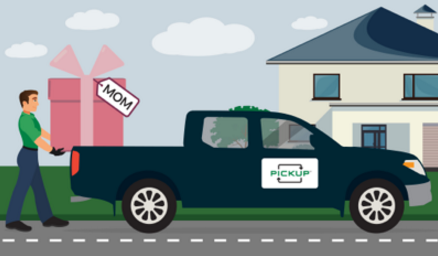 I LOVE shopping estate sales and buying stuff off of Craigslist.
You know what I DON'T love?
Asking my neighbor who owns a truck if he can help transport big items I've purchased.
Whomp. Whomp. That make me a….
#LOSER
Or maybe you like to shop at fancy-schmancy furniture stores. But that brand, new sofa you're dying to get home won't arrive for another 10 to 14 days from the store's delivery truck.
Well, I just discovered PICKUP. It's available in Dallas/Fort Worth, Houston and Austin (coming soon to more cities) and PICKUP fills the gap between you and your purchases by creating an instant delivery service to haul big items that won't fit into your car — and on the day you want things delivered.  Plus, your goods are insured up to $20,000!
Now, who are the PICKUP's drivers??? Well, they're thoroughly screened, trust-verified "Good Guys," like off-duty firefighters or military veterans and personnel who you can count on to handle your belongings. Plus, PICKUP's Good Guys can help assemble anything you have them deliver for you, too.
To see how it works, just go HERE, input the pickup address and the delivery address to get an instant price quote. Plus, they have offered an EXCLUSIVE promo code just for my readers. Aren't you lucky?!?  Use promo code CCMOMMY and you'll get 20% off through March 31st…which means you'll probably pay less using PICKUP than if you opted to use a store's delivery service. And you'll get your item the SAME DAY!!!
Just to give you an idea of your savings, I selected a pick up from Nebraska Furniture Mart (which charges $79.99 for delivery).  Look below and see at what I'd pay using PICKUP. BTW, for any crazy stalkers out there, that's not my real home address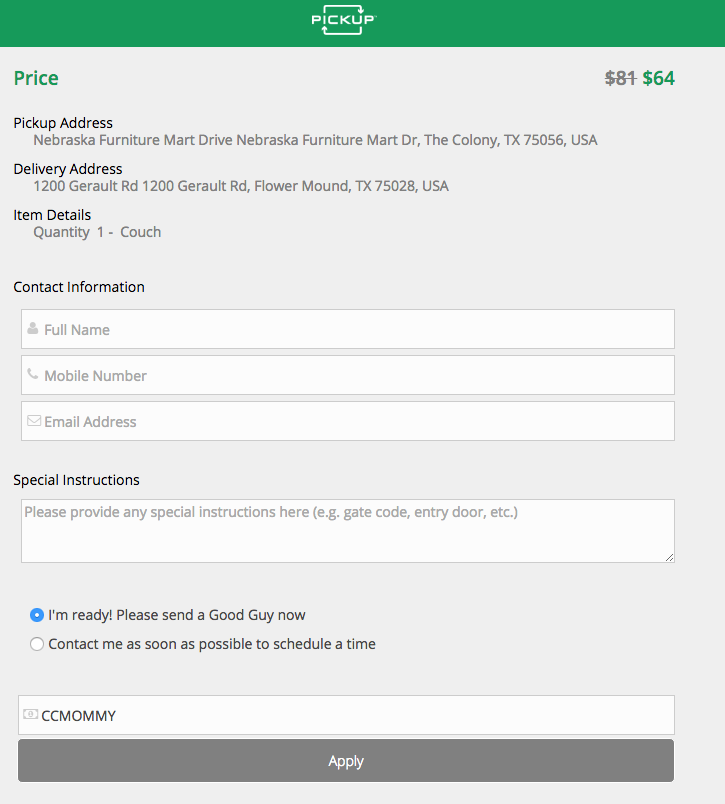 You can access a helpful good guy with a pickup via the app HERE or online. When you're buying, selling, moving, cleaning… whatever – your local good guy is right there at your fingertips.
So, hit those garage sales and shop with abandon because PICKUP frees you to be spontaneous. You're not limited by what fits into your car or subject to someone else's delivery schedule.