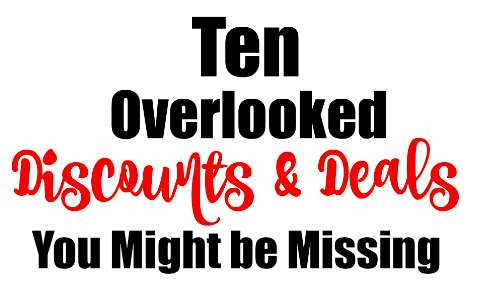 Who doesn't love a good bargain or saving a few bucks here and there? We all know the normal way to find discounts and deals with coupons.  But below is a  list of other options that often get passed by. From now on, keep your eyes open to these great ways to save:
1. Customer Surveys. Taco Bell, Chick-fil-A, and Subway are just three companies that entice you to take a survey with the promise of a reward. Many retail outlets and restaurants want the feedback and are willing to reward you for it!
2. Rebates & Coupons on Packages. "Peelies" are great coupons stuck to products.  You might even find a rebate attached, as well.  Compare the prices of the products, and if you can get a better deal with a mail-in-rebate or coupon, grab it!
3. Ticket stubs. Here in Texas, our sports are everything!  The next time you attend a Cowboys game or any other event or concert, be sure to keep your ticket!  The back of your ticket stub might have a coupon on it, or even a freebie if a team wins or score a specific amount of points.  
4. Work discounts. Cell phone plans might be covered or discounted by your employer!  Be sure to check, because you could be saving a little extra every month. Make sure you ask about fitness centers (gyms) and other public resources – your employer might already have a group account with them that you can be included in!
5.  Receipt coupons. Many store receipts have coupons on the back — especially those that come from grocery store registers. Common discounts include restaurant deals, local dry cleaning deals, reduced ticket prices to local events and more.
6. Car insurance discounts. You might be aware that a good driving record can save you money….but while you're speaking with your car insurance representative, ask about other discounts.  Student drivers that maintain a good GPA, veterans and the elderly often have discounts waiting for them.  You just have to ask about them. 
7. Cash coupons. Stores like Kohl's and Old Navy offer some great savings. By spending a specific amount, you'll receive "Kohl's Cash" or "Old Navy Cash" that can be used on your next shopping trip.  Drugstores are also popular for giving savings on your next purchase, like CVS "Extra Care Bucks" and Walgreens "Register Rewards."  These retailers count on you forgetting all about receiving these discounts – so take note of the days you can use them, and mark that on your calendars. 
8. Home insurance discounts. Check with your home insurance company.  There are specific things you can usually do to receive a discount.  Sometimes installing a certain smoke detector or deadbolt can save you extra money you didn't realize.
9. Online coupons. Discounts online are easy, when you follow blogs like My Dallas Mommy!  But when you're shopping online or even in-store, retailers will often offer great savings via their app or website.  It's usually worth your time to save that extra money, just by searching around a little more!
10. Coupon mailers. You've seen these in your mailbox – and probably tossed them in the trash immediately. Take a minute to look through coupon mailer packs like Valpak and MoneyMailer. Don't pass up a BOGO FREE dinner at a new restaurant, or savings on dry cleaning, car window repair and home carpet cleaning!  You never know when you'll need to use them!