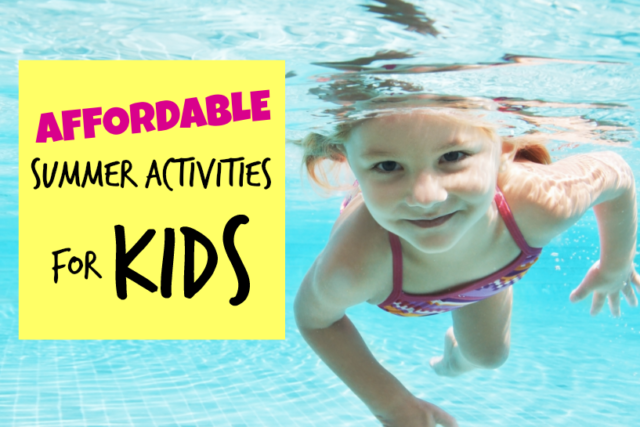 Summer is quickly approaching…EEK! How the heck are we supposed to keep our kids entertained for nearly three months without breaking the bank?
Watch our latest ModMom TV video and get some ideas for some Affordable Kids' Summer Activities.
Bass Pro Shops will be offering FREE Family Summer Camps in June and July.  They haven't listed this year's schedule, but it usually involves crafts and kid's workshops on Bird Watching, Fishing, Archery, Kayaking, and more. Plus, kids can practice casting a fishing rod and perfect their marksmanship skills in the BB shooting range & Shooting arcade.
If you have an Apple store nearby, sign up for their FREE Apple Camp for kids ages 8-12. During the first two days your child will learn how to shoot their own footage, create an original song in GarageBand on an iPad, and put it all together in iMovie on a Mac. On the last day, all the campers will show their movies at the Apple Camp Film Festival.
Registration usually opens the first week of June and the workshops fill up FAST.  Go here to sign up to be notified when registration is open.
My boys participated a few years ago and got a cool t-shirt, Apple patches for a bag or backpack, and a USB bracelet (which I stole and use all the time!).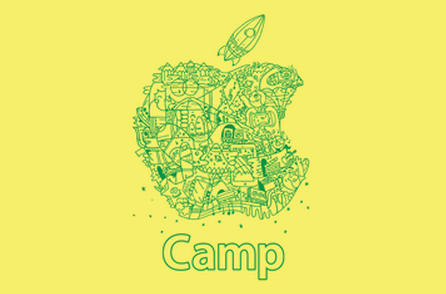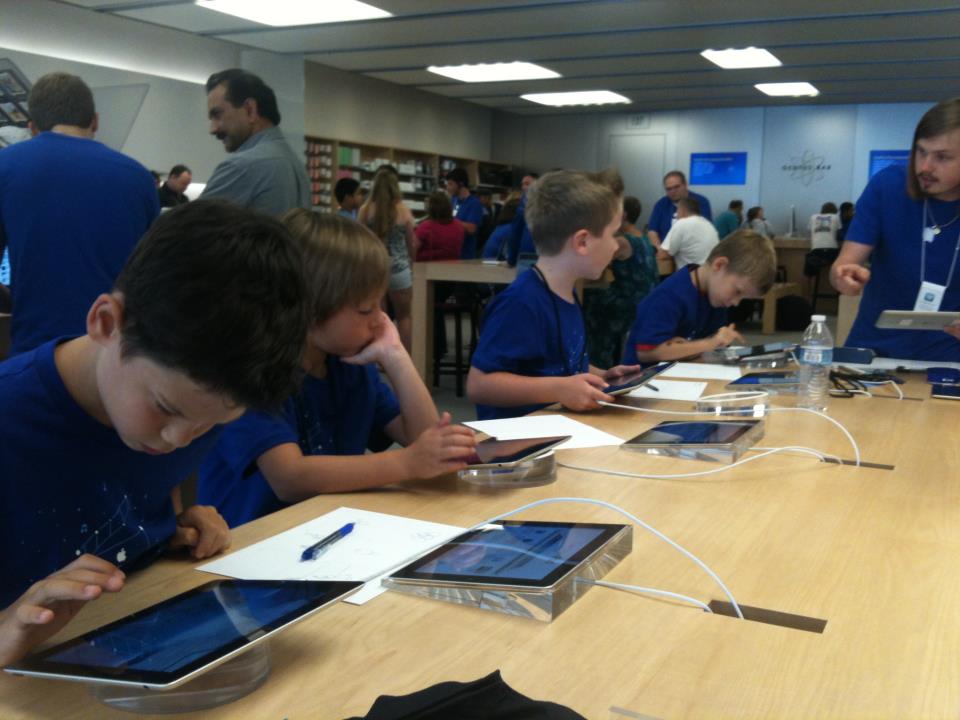 Cool, dark movie theaters are perfect for surviving the brutal Texas summer heat. Here's a list of theaters in the Dallas/Ft. Worth area offering special discounts this summer:
Cinemark Theatres is continuing their Summer Movie Clubhouse, where you can enjoy movies for just $1 per show or pay $5 for 10 movies…that's just $.50 per movie.  What a deal!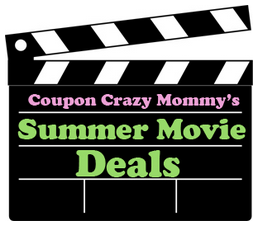 Studio Movie Grill offers a different movie every week (Mon-Fri) for just $3.
Moviehouse & Eatery – FREE Summer Kids Camp is back! Every Tuesday morning from June 7th to August 23rd you'll get to enjoy a hand-picked family favorite! Tickets are given away starting at 9am on a first-come, first-serve basis.
Harkins Theatres has Summer Movie Fun every weekday at 9:45, and you can purchase Season Tickets for all 10 shows for less than $1/show, or pay as you go for $2/person.

There are also Kid's Skate FREE and Kid's Bowl FREE programs available for even more indoor, air conditioned fun!
As part of our annual summer tradition, we always hit the local libraries and join their summer reading clubs.  Not only do these programs encourage lots of reading, kids earn great rewards like FREE tickets for summer activities, books, coupons for restaurants and more.

Be sure to check out your local library reading clubs and these national programs:
Barnes & Noble
 rewards kids with a FREE book after they have read 8 books of their choice.
Scholastic – Kids complete weekly reading challenges online to win digital prizes like book & audio chapters.
Sylvan – Kids read books, take a quiz, earn points based and redeem points for prizes.
Books-a-Million: FREE Camp Half-Blood Tote Bag when you read four books, and turn in your journal to your local store.
Half Price Books is offering up FREE $5 HPB bucks for those kids and parents that read 300 minutes each month. Children must be 14 years or younger to participate in this program. Here are my boys with all their loot from Half Price Books last year…..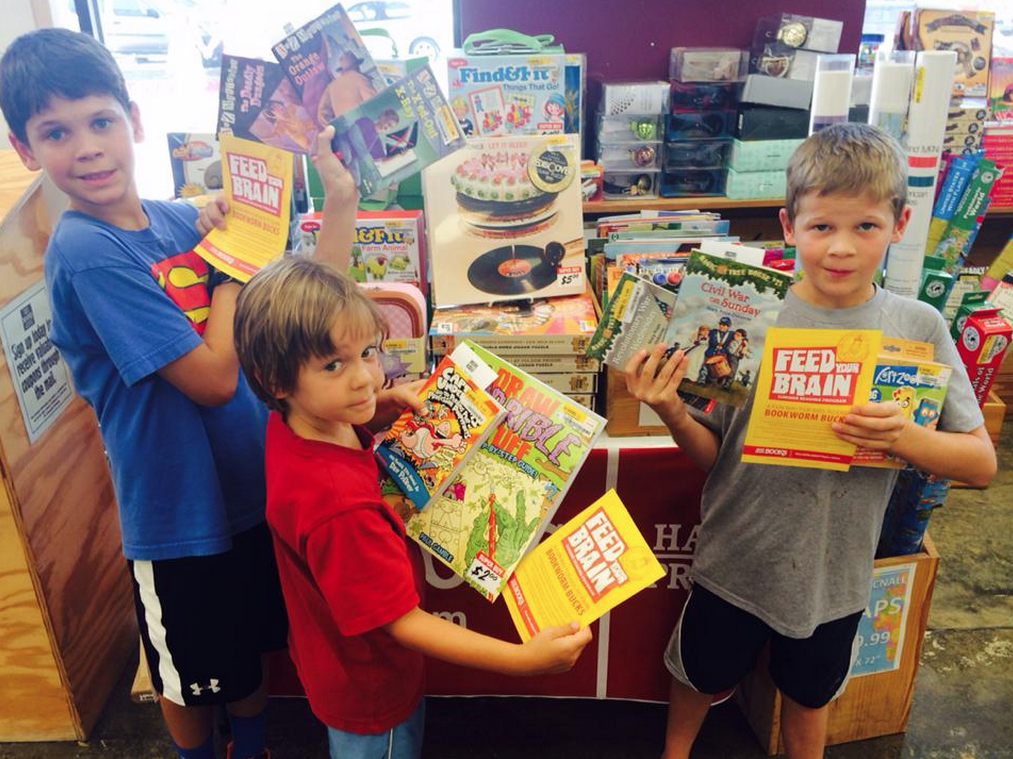 Main Event Summer FUNcamps are the perfect way to beat the summer doldrums (and the heat!). FUNcamps are $29.95 per child, per day OR pay $124.95 for a full 5-day session (that's a savings of $24.80!). Limited to kids 8-15 years old.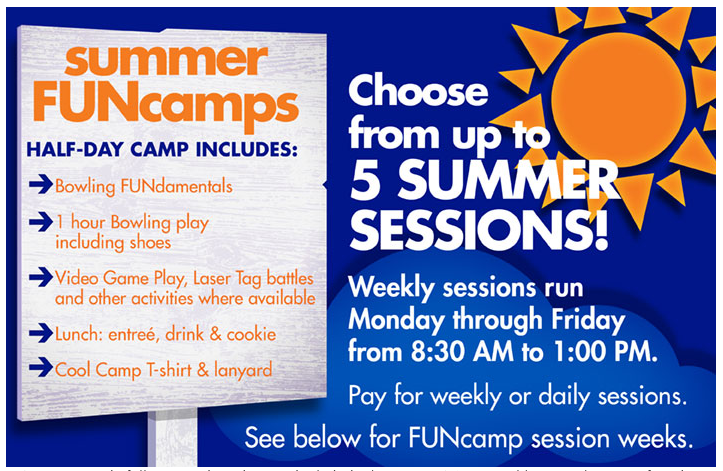 Summer is quickly approaching…EEK! How the heck are we supposed to keep our kids entertained for nearly three months without breaking the bank?
Well, watch our latest ModMom TV video and get some ideas for Affordable Kids' Summer Activities, then scroll down for links and exclusive codes to help you save even more.
Sky Ranch, located in Van, Texas, is one of the leading North American Christian camps. But if your child isn't ready for an overnight camp, you might consider one of their D/FW Launch Camps for an awesome day camp experience – right in your neighborhood! It's a great option for kids entering kindergarten through 5th grade who want to enjoy Sky Ranch Summer Camp, but are not quite ready to stay overnight. Plus, it's affordable at only $269 for a 5-day camp, 9am-3pm.
***Even better, we've got an EXCLUSIVE coupon code for you! Use 16LCBlog at checkout, and you'll get $25 off Launch Camp registration. This code is only valid for the first 25 people, so don't delay!
FYI…Did you know you can claim a Childcare Tax Credit for dependent children 12 and under and get up to a 35% credit back on childcare expenses? Go HERE for more info. Keep in mind, only day camps qualify, not overnight camps. Also, many employers offer a Dependent Care Flexible Spending Account where you can set aside up to $5,000 every year for childcare (and it's tax free!).

One of my favorite new ways to save is with the Pogo Pass. It's an annual family-based entertainment pass, that'll get you more than 20 visits to the best venues in Dallas/Ft. Worth (like the Ft. Worth Zoo, Dallas Children's Aquarium, Going Bonkers, Urban Air, Mountasia, Hawaiian Falls, and MORE). The pass is regularly $124.95, but when use you my exclusive promo code COUPONCRAZY you'll get 60% off…making the pass $49.98!  That means you're basically paying less than $2.50 per visit!  What the what?!?!  So, if you're looking for affordable entertainment for your kids this week, go here to get your Dallas/Ft. Worth Pogo Pass. 
FYI…the Austin Pogo Pass, just became available. And if you're traveling to San Antonio (like we did over Spring Break), check out the places you can visit with the San Antonio Pogo Pass HERE.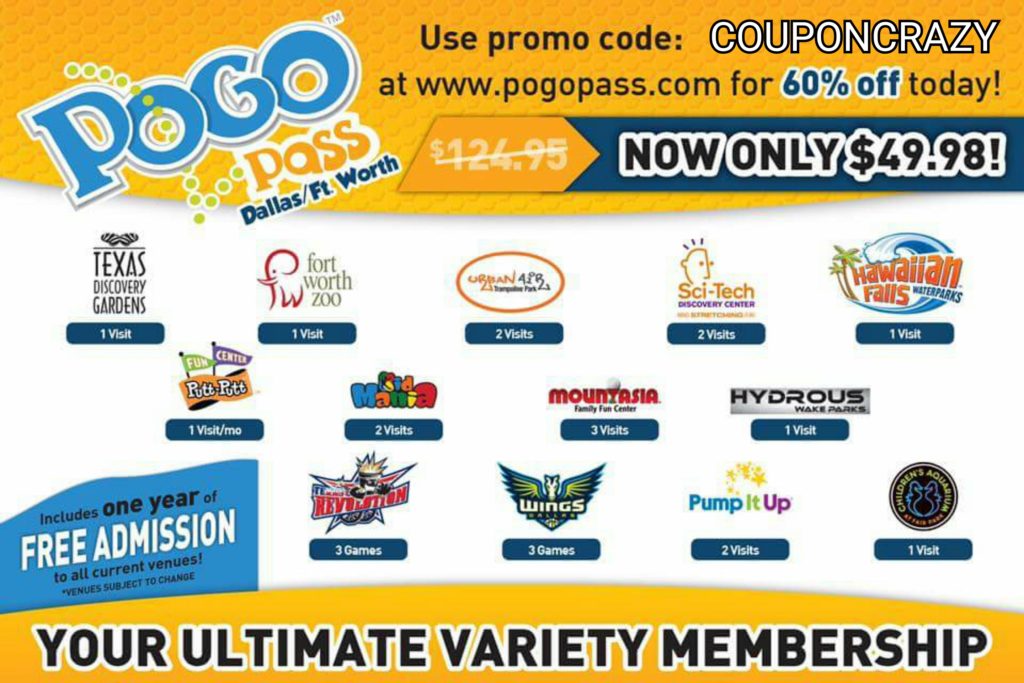 CityPASS is also new to the Dallas area and is a booklet of full of admission tickets to the best attractions. You'll save up to 50% compared to combined regular box office prices!
And now Dallas CityPASS now has a mobile voucher available! You will just need to present your voucher on a smartphone or other mobile device at the first attraction you visit to receive their Dallas CityPASS ticket booklet. No need to worry about getting your CityPASS booklet mailed to you or printing the voucher off. This makes it even easier to purchase a Dallas CityPASS while traveling and use it right away.
Skip ticket lines: Save time with easy access at most attractions. Once you have your CityPASS booklet, skip the ticket line and head straight for the entrance.
Take your time: CityPASS booklets are valid for nine consecutive days beginning the day of first use. Visit the attractions in any order you wish.
Easy Purchase: Get all your attraction tickets in advance in one easy purchase. Buy now and choose delivery option during checkout: Email voucher or ship ticket booklets.
Here's what's included in a Dallas CityPASS ( $46 Adults & $31 Kids)~
1. Perot Museum of Nature and Science~ 3D Film and Museum General Admission, including any public programming on day of admission
2. Reunion Tower GeO-Deck~ General admission offering 360-degree views from the indoor and outdoor observation deck atop one of Dallas' most iconic structures.
3. Dallas Zoo~ General admission to the 106-acre zoo, featuring over 2000 animals.
OR
The Sixth Floor Museum~ Includes audio tour and admission to the permanent exhibit and temporary exhibits on the seventh floor.
4. George W. Bush Presidential Library & Museum~ Admission to all permanent and special exhibits and special Library and Museum programming on the day of attendance, as well as a handheld audio guide.
OR
Dallas Arboretum and Botanical Garden~ General admission to the main garden.