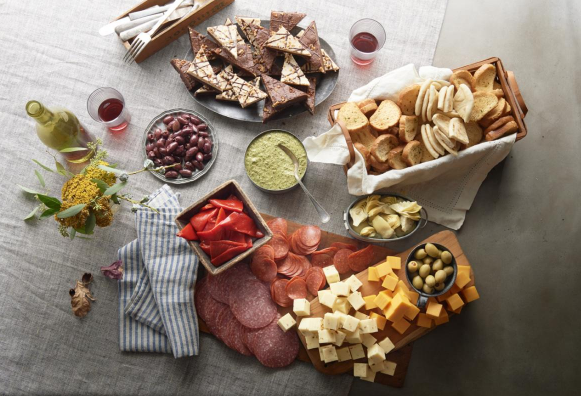 Hosting a holiday party or family gathering?? I recently hosted a "Favorite Things" party (see pics below) and let Jason's Deli take care of all the food with their Social Catering packages. Talk about a stress-free party!
Plus, you'll get FREE delivery on weekdays 4-6 pm and all day on weekends when you use promo code FDSC at checkout. That means you can focus on cleaning your guest bathroom instead of driving all over town to pick up party food!
And I'm giving you a chance to Win a $50 Jason's Deli Gift Card and White Elephant Prize Pack! Head over to the ModMomTV Facebook page and comment on the LIVE video telling us the FUNNIEST White Elephant or BEST Favorite Things gift you've received or seen.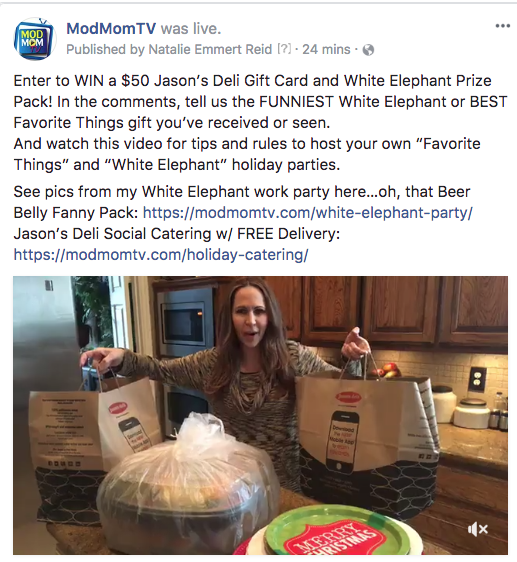 Here are two of my favs:
Modern Meat & Cheese Package ($85 value, pictured above). Sliced pepperoni & hard salami / cubed pepper jack & cheddar / kalamata & queen stuffed green olives / re-roasted piquillo peppers / artichoke hearts / basil pesto aioli /our popular garlic toasties & flatbread / Brownie Duo – fudge-walnut plus peanut butter brownies.
Buon Appetito Package ($85 value, pictured below). It has Italian-style party pinwheels, meatballs tossed in marinara, Jason's Italian pasta salad, and Brownie Duo – fudge-walnut plus peanut butter brownies. My mouth is watering!!! This would be great for a Girl's Night Out party at one of those "wine and painting" places.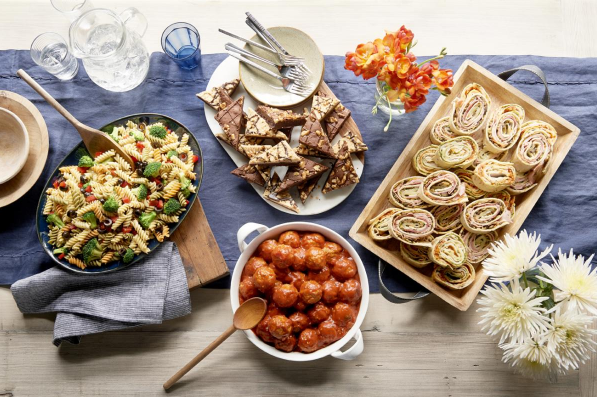 Are you planning an upcoming party or celebration???? Set up your account HERE and enjoy…
Ordering convenience online 24/7.
Easy access to your account info, including recent orders.
Earn Deli Dollar rewards with every online order.
Greater variety of menu items and options – appetizers to desserts.
Ample portions, always. It's entertainment value.
Professional delivery & setup.
Most important – more time for relaxing and socializing!
Wanna see some pics from my "Favorite Things" party? Oh, I know you do!  🙂