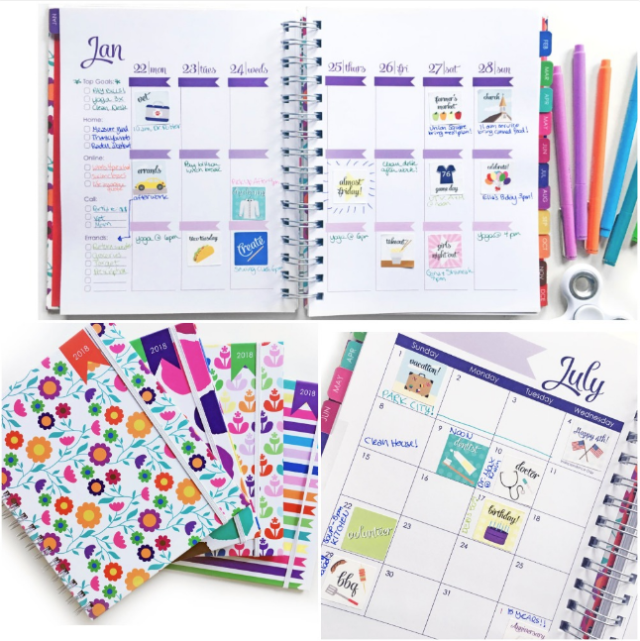 Get organized in 2018 with this Create-A-Life Planner for just $18.99 (Reg. $34.99) from Jane.
Choose from four different cover styles to choose from. Each planner has a monthly calendar view, weekly schedules, to-do lists, creativity pages, productivity pages, and SO much more.
Shipping is $2.99 for the first planner, and then $1.99 for each additional planner shipped within the same order.
PRODUCT DESCRIPTION
The Create-A-Life Planner is an innovative agenda designed to help busy women make time for their plans and their dreams. No rigid hourly timelines, overbearing quotes or overlapping tabs. We believe in balance and have designed to-do lists, productivity pages, creativity pages and stickers to help you get things done AND have fun.
Our 2018 planner features an extra-large 1.25″ silver coil, 2 mm premium hardcover, keepsake box and over 300 re-positionable stickers!
NEW! Elastic band so your plans stay in your planner! Not all over your purse. It can also serve as a handy bookmark.
NEW! 2 mm premium hardcover. Thick enough to handle any busy woman's schedule and still look nice at the end of the day.
NEW! Extra large 1.25″ double silver coil binding. Super sturdy and super big! Pages lay flat, stay intact and leave plenty of room for you to decorate or add personal notes.
NEW! Keepsake box to help you store mementos and stay organized around the house.
NEW! FOUR cover design options to pick the planner that suits your personality best!!
NEW! 2018 + 2019 year-at-a-glance calendars to keep your planning sessions as quick and efficient as possible.
NEW! 70 additional stickers than in 2017 edition. More stickers, more fun!!
12- month dated planner from January – December 2018
7 x 8.5 inches (.75 inches thick), perfect for at home or on-the-go.
1 lb 4 ozs, solid but not too heavy to carry around.
Seasonal, color-coded months to make you smile as you make plans.
Lots of white space on each page so you have room to add your own notes or decorate as you please.
Monthly calendar views to show you the big picture.
Weekly schedules to help you narrow in on the immediate future and what needs to get done.
Front + back inside pockets for storing notes, coupons, bills…anything you need to take with you on a given day!
Over 300 re-positionable stickers, so your plans can change without tearing up the pages of your planner.
Twelve sturdy and colorful monthly tabs. These tabs are all visible at once and don't overlap so you can find your current month quickly and efficiently.
Monthly "Brain Dump" To-Do Lists, to download everything taking up precious bandwidth in your brain.
Weekly To-Do Lists organized by location + top goals to maximize productivity.
Creativity pages: Sketchpad, Images to Collage + Project List to keep you balanced, sane and happy.
Productivity pages: Emergency Contact Information, 2018 Holiday & Important Dates List, Alphabetized Username and Password List that serve as handy references when you need them.
PRODUCT DETAILS
January – December 2018
7 x 8.5 inches (.75 inches thick)
1 lb 4 ozs
Four cover options