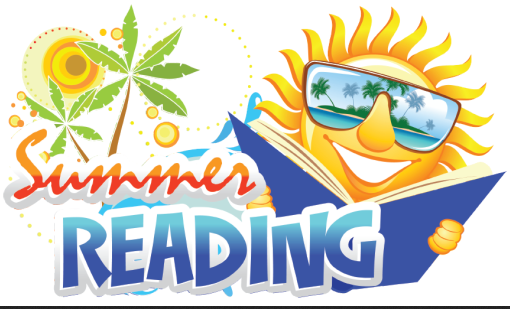 School is almost out for the summer and we want to keep our kiddos minds sharp, so their brain doesn't turn into summer mush!  Reading is a great summer time activity to keep our kids sharp.  Here are some  FREE Summer Reading Programs for 2017.
Free Summer Reading Programs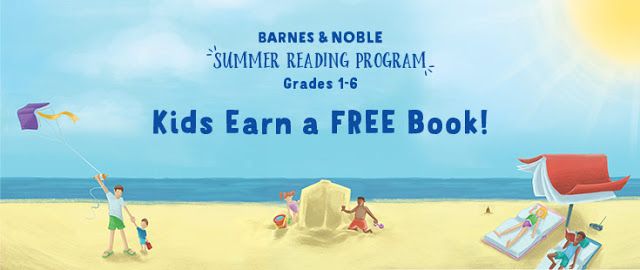 The Barnes and Noble Summer Reading Program is here to help you on your way, encouraging you to read books of your own choosing and earn a FREE book, simply by following these three easy steps:
1. Read any eight books this summer and record them in your Summer Reading Journal (English or Español). Tell us which part of the book is your favorite, and why.
2. Bring your completed journal to a Barnes & Noble store between May 16th and September 5th, 2017. Find a Store
3. Choose your FREE reading adventure from the book list featured on the back of the journal.

Children in grades 1 and 2 are eligible to receive one of the following books:
Ameila Bedelia Means Business (Americal Bedelia Chapter Book Series #1)
Big Shark, Little Shark (Step Into Reading Series)
Chase's Space Case (PAW Patrol)
Eva and the New Owl (Owl Diaries Series #4)
Inspector Flytrap (Inspector Flytrap Series #1)
Jorge el curioso construye una casa en un arbol (Curious George Builds a Tree House)
Pinkalicious: Story Time (I Can Read Series)
Plants vs. Zombies: Save Your Brains! (I Can Read Book 2 Series)
Kids that are in grades 3 and 4 can pick out one of these books:
Completely Clementine
Double Vision (Twintuition Series #1)
How to Tame a Triceratops (Dino Riders Series)
Journey to the Orange Islands (Pokemon Chapter Book)
Judy Moody Was in a Mood (Judy Moody Series #1)
Las aventuras del Capitan Calzoncillos (The Adventures of Captain Underpants)
Ms. Joni Is a Phony! (My Weirdest School Series #7)
Where Is the Great Barrier Reef?
Those children that are in grades 5 and 6 can choose from this list of books:
Fablehaven (Fablehaven Series #1)
Gabriela (American Girl: Girl of the Year 2017 Series #1)
Project Mc2 Smart Is the New Cool
Rump: The True Story of Rumpelstiltskin
The School for Good and Evil (The School for Good and Evil Series #1)
Theodore Boone: Kid Lawyer
The Thing About Jellyfish
The Unwanteds (The Unwanteds Series #1)
Limits
The Barnes and Noble summer reading program is only available to school-aged children in grades 1-6.
Only one book is available for each child who completes a reading journal and choice must be made from the selected books available at the store.
Sylvan offers this FREE reading incentive program. Basically, your child reads books and then takes a simple comprehension quiz to make sure they understood what they read. The quiz is usually about 10 questions long. They earn points based on how much they remember from reading the book. There are hundreds of books to choose from in all reading levels. These are common books that can be found at your local library. Once they have earned enough points they can trade them in for some really neat prizes!
Earn 10 FREE tokens every time your child reads for 2 weeks in a row. Just fill out the form and bring it in to claim your free token.
They are offering kids ages 14 and under a chance to earn a $5 Gift Card for reading just 15 each day throughout the summer!
*Local Public Library
Most of the Public Libraries offer Storytime.

Dallas Public Library – The free eight-week program, June 3 – Aug. 12, encourages reading at least 30 minutes a day. Open to children and adults of all ages. Young club members can earn weekly incentive prizes – from free books and fun foods to zoo, circus and baseball tickets – simply by reporting that they have read 30 minutes per day in person at any Dallas Public Library or online at dallaslibrary.org.
Pottery Barn Summer Reading Challenge
(This has been available every year, it's just not publicized yet online). Open only to children under 10 years of age on any day during the promotion period. Must present completed Award-Winning or Early Reader book list to receive a free book at participating Pottery Barn Kids stores. (Call your local store to make sure they are participating!)
They also offer story time every Tuesday at 11 a.m.!
Offers children a chance to win a $25 gift card! The Bookworm Challenge can be found here.
Log in your reading minutes to the Scholastic site and your child will be able to participate in a World Record challenge as well as earn digital prizes!

Showcase Cinemas Bookworm Wednesdays
Your child can earn a FREE movie ticket from National Amusements Theaters when they read a book and complete a book report.
K-6 students who complete six hours of non-school-related reading approved by their parents and teachers are eligible for free admission to their nearest theme park.
Sync
SYNC is a program that gives away two FREE audiobook downloads every week each Summer for readers ages 13+. (each week features a current Young Adult title paired with a Classic or Required Summer Reading title). Titles are delivered through the OverDrive app which can be downloaded for free. For more information, head here.
TD Bank Summer Reading Program
Read and keep track of 10 books this summer and your child will get $10 added to their Young Saver Account FREE!
Learning Websites and Apps:
The Step-by-Step Learning Path presents the full ABCmouse.com curriculum in a carefully designed program of more than 450 lessons in six levels. As your child completes each lesson, he or she is guided to the next one and is motivated to continue learning by ABCmouse.com's Tickets and Rewards System.
30 day free trial available.
ABCya.com is the leader in free educational kids computer games and activities for elementary students to learn on the web. All children's educational computer activities were created or approved by certified school teachers. All educational games are free and are modeled from primary grade lessons and enhanced to provide an interactive way for children to learn. Grade level lessons incorporate areas such as math and language arts while introducing basic computer skills. Many of the kindergarten and first grade activities are equipped with sound to enhance understanding. Fun children's Holiday activities are available in grade level sections!
Animal Jam is an online virtual playground for children who love animals and the outdoors, and is the result of an ongoing creative collaboration between Smart Bomb Interactive and National Geographic Society. Our goal is to provide a fun, exciting, and safe environment for kids to play online, while inspiring them to explore and protect the natural world outside their doors.
Free unless you decide to upgrade. My oldest plays for free and my youngest has upgraded.
Coolmath has an enormous resource of math lessons from arithmetic up through a preview of Calculus. They also have a Pre-School area.
At Disney Jr you'll find games, coloring pages and videos. The games focus on memory, hand-eye coordination, color matching and other important skills for developing minds.
You'll find printables, games and other activities your kids will enjoy. The games allow your children to explore their creativity, play dress-up, learn new music, put together puzzles and work on numbers and shape recognition.
PBS Kids offers sing-a-long songs, sorting and counting games, videos and more.
Video clips and play games that help them learn letters, animal sounds, rhymes, colors and more.
The site has been online since 2002 and works with your children through letter recognition all the way through to reading plays, nonfiction and comics.
*Most of the websites listed above also have apps. What apps and websites do you use?