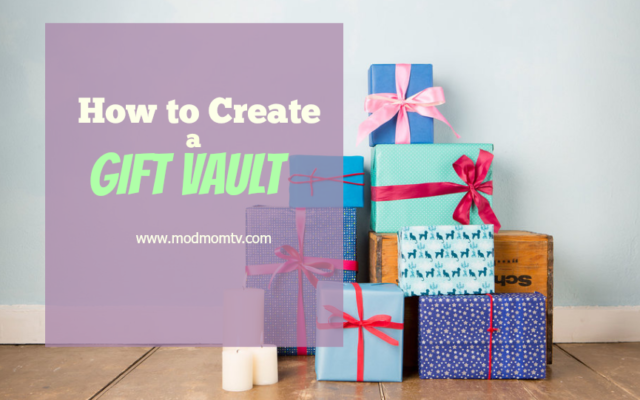 After each holiday throughout the year, retailers need to deplete their stock to get ready for the next season or holiday. Spending less, and getting MORE is a mantra around here, and we do that by stocking up on gifts for holidays, celebrations, birthdays, anniversaries and more, all year.  Why spend full price on items you need or will need,  when you can purchase them early for less, and store them until you're ready for them?  We call these our "Gift Vaults."
This is especially nice when you have a last minute birthday party for one of the kids' friends, forgot about a special birthday and don't have time to run out to find a gift, or want to put together a gift basket for a teacher, co-worker or friend that isn't feeling well!  This is perfect for ANYONE that purchases gifts ANYTIME during the year.
Not only can you store gifts for the future, you can store the wrapping supplies you'll need, too!  Use a separate tote, or put them in with the gifts!  Any way you do it, you'll be glad you did!  Where do we store these gifts?  Here are some ideas!

* Storage Totes
Storage totes are a great way to stock up on gifts, and keep them until you're ready to wrap them up and hand them out.  Tuck it away in a closet, corner, garage or anywhere that is convenient, yet won't get the kids curious about what's inside.  As you collect them, just toss them in the tote.  When you need to have a last minute gift, this is especially nice, because you'll have some great options if you've continued to shop all year.  Check out some affordable options HERE and HERE.
* Under Bed
If you're limited on space, consider storing your gifts under a bed!  There are lots of great under-bed storage options available (see some HERE) that slide perfectly under the bed and stay hidden.
* Closets
Re-arrange your closet to create a space perfect for gift items.  This works well if you don't have the space for a tote.  Before using a tote, I used a medium sized duffle bag that I stashed in the corner of my closet to store gifts in.  This kept them hidden, but in a convenient spot, all together.
* Dates to Remember Sheet
Another suggestion is to create a gift list.  This can be stored with your stockpile of gifts, and help you remember important dates for your loved ones!  This will keep you more organized, and help you know what gifts to be on the lookout for, every year.  
Hopefully now, when you see some awesome online deals that we post, you'll change your thinking from, "I'll have to get that for John's birthday in June," to "John's birthday is in June, but this is an incredible price.  I'll get it now and store it away, so I save more money!"
How to you organize and store away gifts?