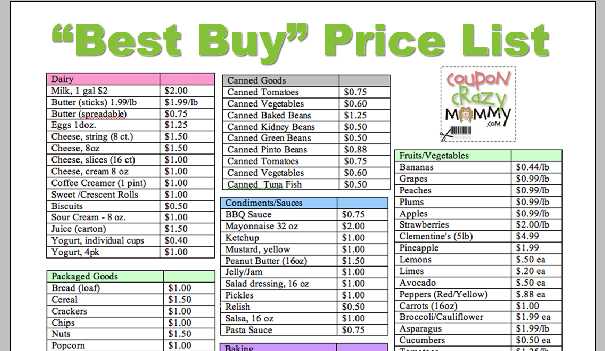 Whenever I teach my couponing classes, I always spend time talking about the importance of having a price book, so you can know when to stock up and how to compare regular store prices to advertised sale prices. Having a price book helps you determine if the "sale" items are truly good deals.
For example, I refuse to pay over $1 for a box of cereal, over $.50 for a can of tuna, and over $1.99/lb for chicken breasts. Since, I know those items will eventually drop to their rock bottom prices (usually every 4-6 weeks), when they do drop, I stock up.
Now, to help you out, I finally found some time to compile a list of my "Best Buy" prices for grocery and household items. Go here to download it. Keep this in your coupon file or binder, so you'll always have a good idea of what's a great stock-up price.
Now, if you want to create your own custom price book, go here to read about how to get started. Your price book can be as elaborate or as simple as you want.  Set it up to suit your own shopping style.