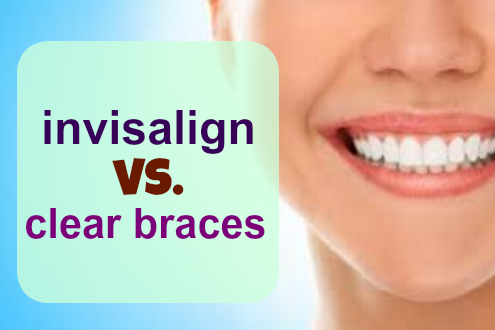 Many people have asked why I chose clear braces instead of Invisalign. And maybe you're wondering, "What really is the difference between the two?"
Well, I decided to ask an expert, my orthodontist, Dr. Habern and get a break down on the pros and cons of both. Watch the video below for the inside scoop, plus learn the best time to start orthodontic treatment for kids.
Keep in mind, it's not uncommon for both parents and kids be getting orthodontic treatment. It was actually very convenient to schedule my son's appointments and mine for the same day and time.
Things to remember when comparing Invisalign and Clear Braces:
Invisalign is effective for mild to moderate crowding and alignment cases. It is especially good for patients who have had previous orthodontic treatment but have experienced some relapse.
Clear braces are preferred by most orthodontists for moderate to severe cases.
Invisalign is smooth and virtually transparent.
Clear braces blend into the patient's teeth, but the brackets are a bit bulky and more noticeable. Plus, metal wires are used to make the majority of adjustments and those are not transparent.

Invisalign is usually comfortable and convenient to wear.
Clear braces can irritate soft tissue because they are made of a ceramic material. I went through my fair share of wax in order to put a barrier between my lips/cheeks and the rough edges of the brackets!
Invisalign can be slower to achieve results and is dependent almost entirely on you. If you don't wear them, they won't work.
Clear braces work faster at closing gaps and aligning the teeth, plus can correct malocclusion (crooked or crowded teeth) and bad bites.
And remember, whether you choose Invisalign or clear braces, the most important thing is to make sure you select an orthodontist who is properly trained and who can give you a realistic vision of your final results.