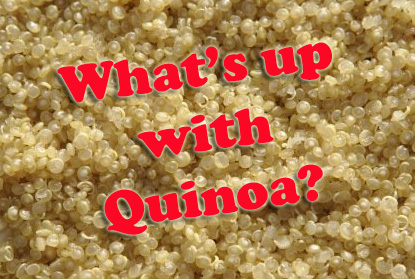 I LOVE Quinoa!!! It's the latest and greatest "superfood" because it's packed with protein (about 10g per cup) and contains several essential vitamins. It's also wheat & gluten free and a great substitute for rice or pasta. Plus, because it's so bland (yeah, that's actually a good thing) it's incredibly versatile.  You can eat it for breakfast, hide it in cookies or use it to make great main course meals, like Quinoa Chili.
Sprouts sells it in bulk for about $3.99/lb. and Amazon sells 2lb bags for $10.99. It's a very reasonably price item for the amount of the nutrients you'll get from it.
Now, if you've tried quinoa before and didn't fall deeply in love with it, go here to read the best method I've found for getting a non-bitter and fluffy result.
I almost always have quinoa waiting for me in my fridge for mid-day snacking.  I usually top 1/2 cup of cooked (cold) quinoa with a combination of the following:
– 1/2 avocado – sliced strawberries – chopped papaya or mango – sliced honey-roasted Wonderful Almonds or toasted pecans – aged balsamic vinegar (it's sweet!) – feta or goat cheese crumbles   
Oh, and so you don't embarrass yourself when raving to friends about your new addiction, it's pronounced "KEEN-wah" NOT "Quin-no-ah."