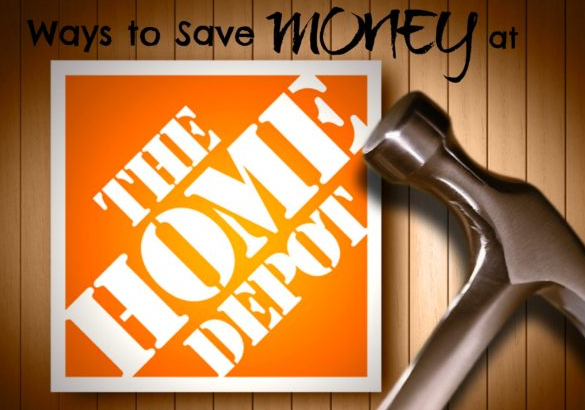 Since Father's Day is this weekend, we thought we'd focus on a favorite store for most men: The Home Depot.
And because we love to give them honey-do lists, there are usually endless jobs to be done around your house.  We're going to share some ways to save money when you shop the big box stores like Home Depot.
Ways to Save Money at Home Depot
Whether you're looking for paint or doing a bathroom remodel there are great ways to save money at Home Depot!  Let's dive in and take a look…
Use Discounts & Coupons
Take advantage of all available coupons and discounts. Veterans get a 10 percent discount on Memorial Day, Independence Day and Veterans Day with proof of service. There's also a 10 percent discount every day for active-duty service members, and for retired or disabled veterans and their family members, with a valid military ID.
Make sure and sign up for emails (scroll to the bottom of the page) from Home Depot, where you'll get savings and tips plus get a $5 off coupon on a $50 purchase.  Also, check the "specials page" as they might be having a great sale on what you are looking for!
If you subscribe to text alerts from Home Depot, you will get a coupon sent to you via text message for $5 off your next purchase. You must spend $50 to use the coupon. Signing up is easy — you can do it online.
Subscribers receive approximately 10 texts a month from Home Depot that include special promotions and offers, as well as design tips and information.
Look for Markdowns
Scope the store for clearance items and price markdowns on end caps in the store.
Learn the store price codes. Here's how it generally works:
Prices ending in .06 — This means it's a clearance item and has six weeks until the price drops again. These are typically printed on a yellow price tag.
Prices ending in .03 — If the item is still in stock after six weeks, the price will be lowered an additional 3 cents. It's best to get the product then, because after three weeks, the item will be removed from the shelves. These are also typically printed on a yellow tag.
If you're looking for paint, check out the "OOPS Paint Rack" for big discounts that have been returned.

Saving on Tools
Consider renting tools instead of buying.  Home Depot has a ton of options and could be a great saver for you for those "one-time" projects. You can rent by the hour, day, week or month.

Daily Deals
Home Depot's Special Buy of the Day offers online exclusive deals to save on home improvement projects. They are "today only" deals while supplies last.
Rebates
Before you make a big purchase visit Home Depot's online rebate center to see what saving opportunities are available. You can search by brand, product, ZIP code or model number.

Price Match
If you find a lower price on an identical in-stock item at a local competitor's store, Home Depot will match the price, plus take 10 percent off. You'll need to take a competitor's ad to Home Depot to ask for the price match and the additional 10 percent off. Online purchases will only receive a price match, not the additional 10 percent off.
The retailer won't give you a price match on special orders, volume discounts, labor and installation, sales tax, rebates or free offers. Also, the price match doesn't apply to going-out-of-business sales or a competitor's seasonal merchandise.

Use Discount Gift Cards
Consider purchasing a gift card for less money than its remaining balance. On discount gift card sites like Raise.com you can generally buy a Home Depot gift card for about a 6.5 percent discount. The gift cards are good at any Home Depot retail store or online.
Negotiate
Don't be afraid to negotiate the price. Ask to speak to a manager, he or she might be more willing to negotiate with you to seal the deal.
Thanks in part to CBS News.