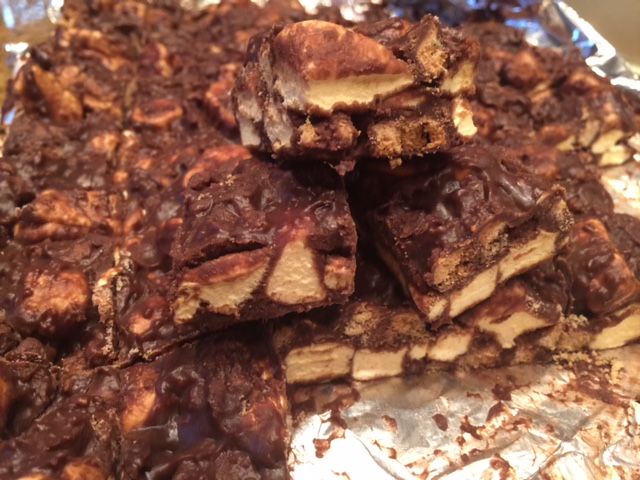 It's still way too hot outside to gather around a raging camp fire. But if you're longing for a chocolate calorie splurge, here's a recipe for NO-BAKE S'MORES BARS. The best part? They're easy to make with only four ingredients:
1/2 cup

heavy whipping cream

1 3/4 cups (11.5-oz. pkg.)

Milk Chocolate Morsels

3 1/2 cups

miniature marshmallows

7 1/2 ozs.

chocolate-covered graham crackers, broken into bite-size pieces
 Directions:
Line a 9-inch-square baking pan with  foil.
In a sauce pan, heat the cream over medium just until bubbles appear around edge of the pan. This only takes a minute or two.
Remove from heat and mix in the milk chocolate chips until smooth. Allow to cool, stirring occasionally. This should only take about 5 minutes.  You just want it cool to the touch because you don't want it to melt the marshmallows.
Add the marshmallows to the chocolate mixture and stir gently.  You just want the marshmallows to get coated with the chocolate.to coat. Then gently stir in graham cracker pieces until combined.
Pour the mixture into your foil lined pan and gently press down to fill the pan.  Be sure to scrape out every last drop!
Refrigerate for 2 hours or until firm (OR put them in the freezer for 20 minutes, if you have a gang of kids drooling and staring at you begging for dessert!!!) Remove from pan using the foil and cut into bars with a knife that has been sprayed with non-stick cooking spray. Makes 9-12 bars.
Recipe adapted from Nestle's Very Best Baking.