Wow, can you believe it's been 20 years since the very first Oprah's Favorite Things list? And one of my favorite things about her favorite things is hearing the stories of small businesses becoming overnight sensations due to the "O" factor.
Like, Greenberg Smoked Turkey from my hometown of Tyler, TX.  (Trust me, these birds are delicious!)
According to this report from NBC, Sam Greenberg was sitting in his East Texas office when he got the call in the fall of 2003 from a producer from The Oprah Winfrey Show. She asked if Greenberg would give away 400 of his hickory-smoked fowl to a studio audience. As they talked, Greenberg glanced out his window onto the sales floor and saw an employee hold up a sign that read: Oprah's on line three. He immediately took her call. Winfrey got right to the point. "Can you handle it? Can you get the turkeys out?" Greenberg said he would, knowing full well what an introduction to millions of Oprah's diehard fans could mean for a company with only a dozen full-time employees. "We'll be fine," he said. Then Winfrey asked to be transferred to someone who could take her own order; turns out she'd been buying Greenberg's turkeys ever since receiving one as a gift.
For example, five days before the 2005 Favorite Things show taping, Oprah threw down a Kashwére robe on the conference table at a producer's meeting and just like that, the robe was added to the list. With such short notice, Seltzer knew it would be a challenge. "For six consecutive weeks we could not get a call out, the phones were hammered and we did thousands and thousands of Internet orders. People assume every business on Oprah is like Nike or IBM, sometimes the burden is overwhelming." Seltzer offered his staff pizza and brought in friends of friends to handle the workload in the months after the show. The good news? "My company now is a much stronger company because of it, we can handle bigger volumes and make it look easy."
So, let's see which products made Oprah's 2017 Favorite Things List!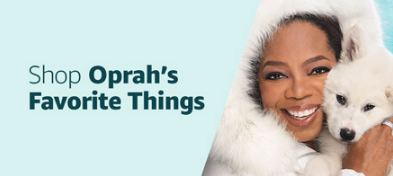 The 2017 Oprah's Favorite Things" list is the longest list to date with 102 unique gift ideas for EVERYONE on your Christmas list! I've shared my favorite 20 items below. (But if you want to pick up every single item on this year's list it'll ONLY cost you a mere $13,000!)
Here are my favorite things from this year's Oprah's Favorite Things list…
Matching Buffalo Plaid Holiday Family from Burt's Bee's Baby!
GoBone (automatically keeps a pup rolling around, chasing, and being chased, all at the touch of an app)
There's a Nespresso machine, which I LOVE!! There was one of these machines in my room at the W Hotel in Las Vegas…remember that WACKY room I showed you??)
Smooshshirts and Smooshpants (Perfect for travel!)
Gourmia GSI180 Automatic Healthy Frozen Dessert Maker
But sorry, no cars.