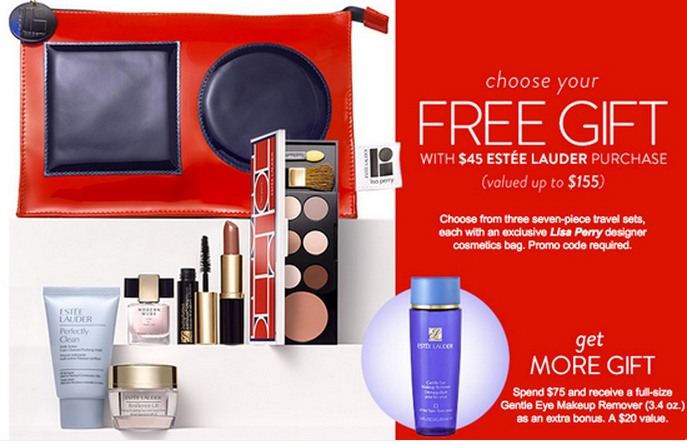 For a limited time, Nordstrom is offering a FREE gift ($155 value) with your $45 Estee Lauder purchase!
PLUS, because it's a beauty purchase, you'll get to select 3 FREE samples on the way to checkout! Also, if you spend $75 you can also receive a full-size Gentle Eye Makeup Remover, valued at $20.
And remember, all Nordstrom orders get FREE shipping!
For your FREE gift, choose from three different 7-piece travel sets, each comes with an exclusive Lisa Perry designer cosmetic bag. Depending on what travel set you want, you'll use a different promotional code:
Use promo code SUPREME at checkout
Revitalizing Supreme Global Anti-Aging Creme (0.5 oz.)
Perfectly Clean Foam Cleanser/Purifying Mask (1 oz.)
Cheek and Eye Palette
Pure Color Lipstick in Sugar Honey
Sumptuous Mascara in Black (0.03 oz.)
Modern Muse Eau De Parfum (0.14 oz.)
Exclusive Lisa Perry Designer Cosmetics Bag
Valued at $153
Use promo code LIFT at checkout
Resilience Lift Firming/Sculpting Face and Neck Creme SPF 15 (0.5 oz.)
Perfectly Clean Foam Cleanser/Purifying Mask (1 oz.)
Cheek and Eye Palette
Pure Color Lipstick in Sugar Honey
Sumptuous Mascara in Black (0.03 oz.)
Modern Muse Eau De Parfum (0.14 oz.)
Exclusive Lisa Perry Designer Cosmetics Bag
Valued at $155
Use promo code PROTECT at checkout
Nutritious Vita-Mineral Moisture Creme (0.5 oz.)
Nutritious 2-in-1 Foam Cleanser (1 oz.)
Cheek and Eye Palette
Pure Color Lipstick in Sugar Honey
Sumptuous Mascara in Black (0.03 oz.)
Modern Muse Eau De Parfum (0.14 oz.)
Exclusive Lisa Perry Designer Cosmetics Bag
Valued at $150
(Thanks, Queen Bee Coupons!)