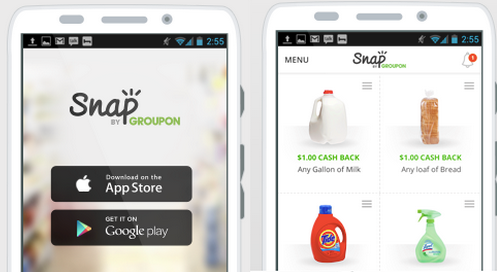 There's yet another rebate app that just launched..it's Snap by Groupon and it pays you cash back when you purchase select items at local stores.  What's great is you can stack Snap offers with offers from Ibotta, Checkout51, BerryCart, and others, for double (or even triple cash back!). Sweet!
Just go HERE and download the Snap App for FREE (available for both iTunes and Android). If you don't have a Smartphone, you can still use Snap on your computer – just create an account here.
* The offers will vary, but I see in my account $1 cash back for buying a gallon of milk, $1 cash back for buying a loaf of bread, $2 cash back for buying Huggies Wipes and more) – note that some of the offers can be redeemed as many times as you'd like! Each offer's redemption limit is clearly noted on its details page.
* Buy items from the Offer List at ANY store.  There are lots of great offers available!
* Upload a photo of your entire receipt using the app or website within 2 days of purchase
* When your account reaches $20, you can request payment. Go to the 'My Account' page and select 'Cash Out'.
* Typically payments are distributed within two weeks of request but may take up to sixty sixty days.
* Note that offers expire either when the maximum number of redemptions has been reached or the product program has concluded. Expired offers will either be hidden or clearly marked as unavailable.
And once you sign up, create your own referral link to share with friends, family via Facebook or email and you'll get $1 after redeem an eligible offer.  Pssst…..my referral link is in this post. Thanks for extra buck!
You can stack this $1 cash back on milk Snap offer with a Dollar General store coupon and an Ibotta rebate. Check it out:
Buy 1 Gallon of Milk for $2.40 at Dollar General
Use $2/1 Off Purchase of $2.01 or more at Dollar General 
(must register)
Submit for $0.25 
Ibotta rebate
Submit for $1.00 
Snap by Groupon rebate
= FREE + $.75 moneymaker after coupon and rebates!
(Thanks, Hip2Save!)