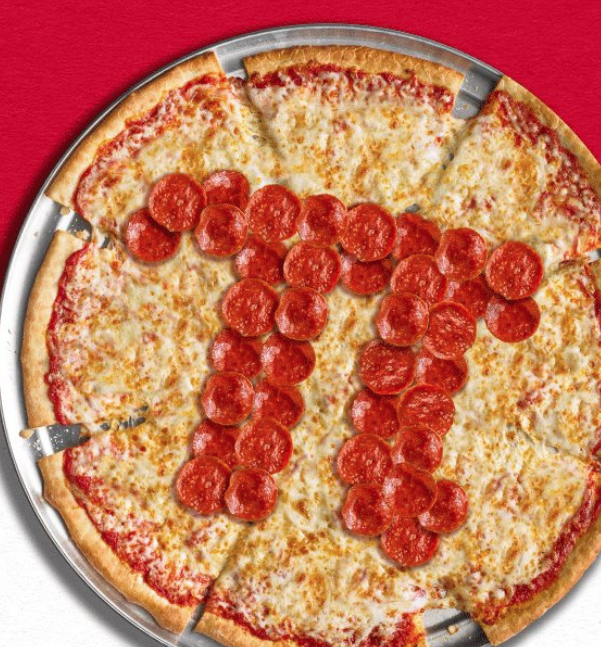 Today, Wednesday, March 14th, is International Pi Day and there are lots of fun deals available. Check these out..
1. Blaze Pizza is offering up any pizza for just $3.14! Their pizzas are regularly $7.50, so this is a great deal! I've never been to Blaze Pizza, but there are four locations in Dallas/Ft. Worth. Hmm….maybe I'll  find one near me and grab some cheap pizza. I suggest you check with your local restaurant to make sure they are participating.
2. Today only, get a bakery pie for just $3.14 with your Kroger card. For more information, check out the Kroger Facebook page.
3. Whole Foods Market is celebrating Pi Day with $3.14 off both large bakery pies and large take-and-bake pizzas on March 14 and while supplies last. Varieties of pies and pizzas vary from store to store, but may include pumpkin pie, apple pie, gluten-free apple pie, cherry pie, pepperoni pizza, cheese pizza, vegan pizza and more. Selection varies by store and excludes frozen.
4. Boston Market is offering a FREE rotisserie chicken pot pie with the purchase of any meal and drink. Just print out this coupon or show it on your phone.
5. Cici's Pizza is offering  buy 1 adult buffet at regular price, get a 2nd adult buffet for $3.14 when you print out or show this coupon on your smartphone. For more information, check out the Cici's Pizza Facebook page.
*BONUS for Dallas/Ft. Worth Readers*
According to this Emporium Pies's tweet, if you can recite the first twenty digits of pie from memory to a cashier at this delicious bakery, they'll give you a slice of pie for free. They'll also have prizes and chicken pot pies to celebrate the holiday. Even if you fail to recall the stream of numbers, indulge in one of their amazing options anyway. You'll thank yourself later.