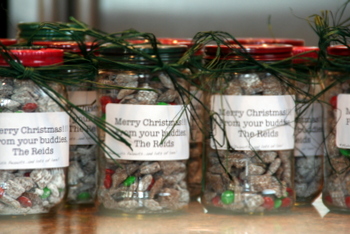 I love to give our friends and neighbors homemade treats at Christmas. (Psst….and I love to receive them, if any neighbors are reading this!) But since I also love to save money, I'd rather not spend a week's grocery budget on baking ingredients, goods and containers. And that means I'm always looking for inexpensive, yet creative, ways to bless those around us during the holidays.
This year, I made Chex® Muddy Buddies® Christmas Gift Jars and each one cost me just around $1. Not bad, right? So, how did I do it?
Well, this summer I came across a Manager Markdown for Laura Scudder's Peanut Butter and brought about 20 jars. Yes, my three boys eat a LOT of peanut butter around here!! Each time we finished a jar, instead of trashing it, I washed it and stuck it in the back of the pantry. I saved pasta sauce and pickle jars, too.
This week, I pulled them all down, soaked them and removed the labels. With the help of my favorite kitchen tool, the Good Cook Kitchen Scraper and a little Goo Gone, the labels came right off.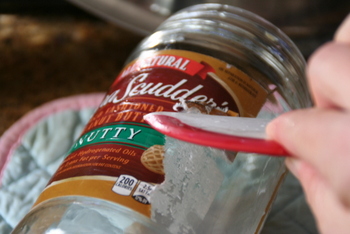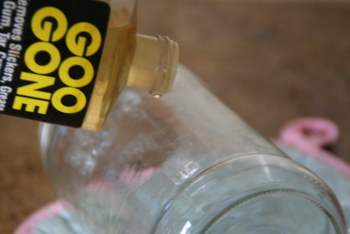 To make the lids festive (and cover the product logo), I first used green spray paint just across the top. I let it dry a few minutes, then laid a little cardboard craft cut-out with the word "Peace" on top of the green paint. I used it as a reverse stencil, then used red spray paint on the entire lid. While the paint was still wet I dropped a couple of metallic snowflakes on top.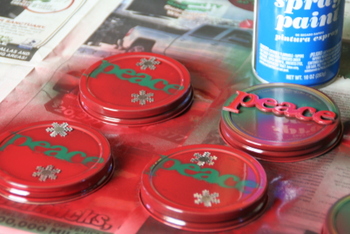 Of course ALL the ingredients I bought were on sale, plus I used a coupon. Here's the breakdown for the Chex Muddy Buddies recipe:
2 bags Nestle chocolate chips – $1 each 2 Cups Peanut Butter – $1.50 5 boxes Chex Cereal – $1.50 each 2 sticks of Challenge butter –  $.25 each 1 Bag C&H powdered suger – $1.20 19oz bag M&M's – $2.43   This made 14 jars (minus all the handfuls that were stolen by my boys and hubby along the way!).
Chex® Muddy Buddies® are a classic. Go here to get the recipe.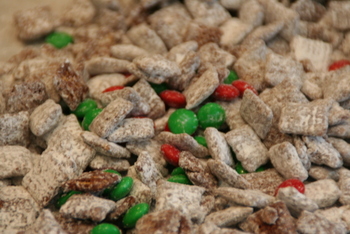 Another one of my favorite kitchen gadget is my KitchenAid Pro Set of 3 Funnels. I use these more than I ever thought I would! The big one was perfect for easily filling the jars.
Finally, I placed a label on each jar that read, "Merry Christmas!!! From your buddies, The Reids" and tied a little green raffia around then neck. And then they were ready for delivery!