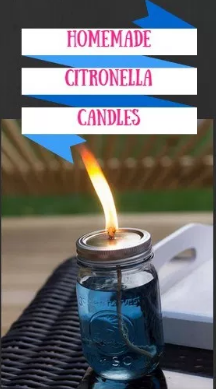 It won't be long until those pesky little mosquitoes will be in full force!  And if you don't like spending lots of money on products to keep them away, here is a super simple way to make your own homemade mosquito candles while repurposing glass jars you already have.  Plus, the cost of the materials for this come to about $1 per candle you make- can't beat that!
Homemade Mosquito Candles
To make these citronella glass jar candles, you will need:
Glass jars
Hammer
Nail
Long-strand, untreated cotton wick
Citronella Oil
Wax dye (optional)
1.) Start with clean and dry glass containers- you can use mason jars or upcycle leftover applesauce jars, jelly or pickle jars or even baby food jars. Any type of glass jar with a metal lid will work for this project.
2.) Make a hole in the middle of each jar lid. To do this, place a nail on the jar lid and gently hammer it straight down. After the hole is made, pull the  out.
3.) String the cotton wick through the glass hole. Leave the wick long enough to reach down into the oil, and even coil a little for a longer burn. Trim at the top about 2 inches tall.
4.) Fill the jars with citronella oil of choice. At this point, you can stir in melted wax dye to add color if you want.
5.) Dip the wick into the oil, fully submerge it, pull it through the hole, tighten your jar lid and light the wick. As the wick burns down, simply pull up more of the wick to keep on burning.
These candles are perfect for celebrating summer with outdoor picnics and parties! They look crafty and will keep mosquitoes from ruining your fun. ?
Make sure and check out our other Home Hacks ideas!