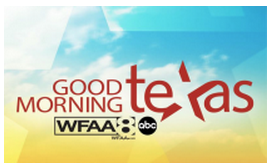 Welcome, Good Morning Texas viewers!
If you're new to my website, I'm glad you're here! Stick around and you can save 40-60% on your groceries, household items, clothing, entertainment and more. It may seem overwhelming at first, but if you start slowly (and let me do most of the work for you), soon you'll be Coupon Crazy, too.
Here are FIVE things to get you headed in the right direction:
1.  Sign up for my FREE "Crazy Deals Newsletter" and you'll have the top deals for restaurants, movies, online, kid's stuff, travel and more delivered to your inbox every weekday.
2. Check out my New to Couponing section. There you'll find a printable "Best Buy" Price Book, the Annual Grocery Sales Cycle, learn How to Organize Coupons, and more.
3.  Watch, my FREE 1-hour "Couponing 101″ virtual class. This will give you the foundations for how to save the most money without spending a ton of time.
4. Follow me on Twitter and Facebook for up-to-the minute deal postings. Also, go here to ensure you see Facebook posts. (Because when Mark Zuckerburg isn't busy ruling the world, he's messing around with your Facebook timeline!)
Here are some of the Back-to-School items I talked about on today's Good Morning Texas segment…
Dorm it Up
Dallas-based, Dorm It Up takes the hassle (and expense) out of gathering all the necessities for dorm life. They offer one-stop shopping with these three packages: College, Here I Come (mostly bedding and towels, plus a much-needed clip-on fan) costs $175, The Good Life is $239 (with added items including a shower caddy, flip flops, plastic dishes and a set of utensils), and Doin It Big is $299 (additions include a bulletin/whiteboard, computer speakers and a first aid kit).
Click HERE to automatically get $20 off your $75+ Dorm It Up purchase!
Just choose your color, pattern and package and Dorm It Up ships your order for FREE straight to the student's dorm.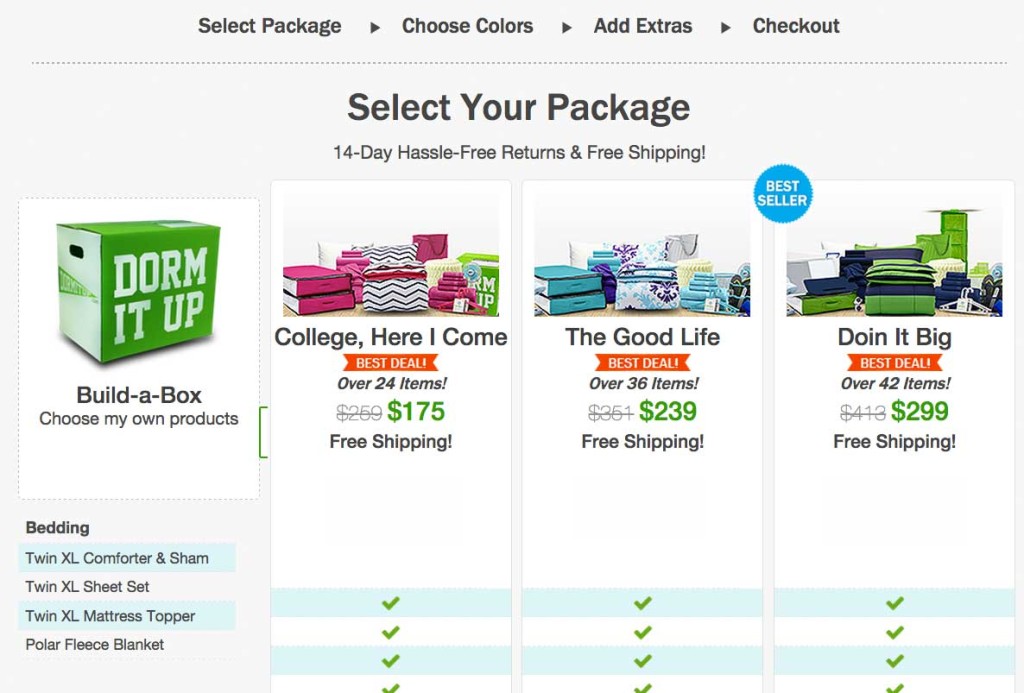 Style It Up
Join Schoola (it's FREE) and you'll get a $15 credit towards your total purchase AND shipping!  Plus, if you create and save a custom collection, you'll get an extra $10 in store credit!  Shipping is FREE right now with promo code GEARUP, which means you can score $25 worth of gently-used clothing and accessories totally FREE!  And once you sign up, be sure to grab your personal link and share this deal with your friends and you'll get an extra $15 credit for each friend who joins. Not bad, huh?
Even better, you're helping students everywhere because $2 of every $5 spent at Schoola goes back to schools to fund programs like art, music, and PE. Awesome!
Plus, you can raise money for YOUR child's school. Go HERE and request a FREE postage-paid bag, fill it with gently used clothes and 40% of the proceeds will go directly to the school of your choice.
Enter below to WIN a $50 Schoola Gift Card…
Plan It Up
I discovered the Reminder Binder two years ago and fell in love with it!!!  Yes, I use the calendar on my iMac to keep up with all the happenings of life, but I'm still a huge fan of writing down my schedule and to-do list (and all those random things, thoughts and ideas that pop into my head throughout the day!). The Reminder Binder is a lifesaver!!! I reached out to Denise Albright, designer & illustrator, and shared my passion for her creation, so she offered us an awesome deal: 40% off (a minimum $10 purchase), when you use promo code 40815 at checkout.  Plus, when you order the brand new August 2015 – December 2016 Reminder Binder you'll automatically receive a FREE Bonus set of 432 stickers (Retail $8.99). That means you can get the Reminder Binder and bonus planner stickers for just $8.97 (a $24 value)!  FYI…shipping was $3.50 for me.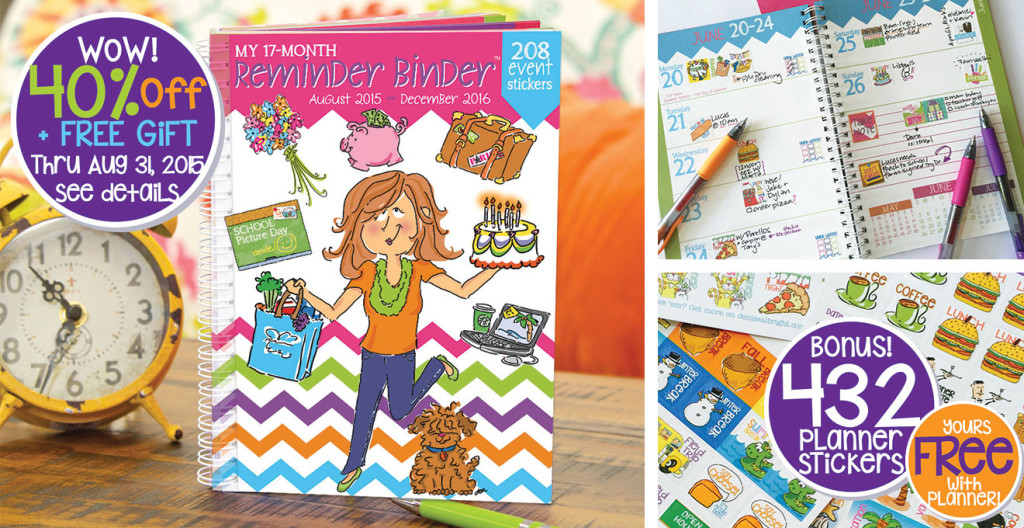 Even better, enter below to WIN a Reminder Binder and set of 432 Planner stickers ($24 value)…
Denise also created these super-cute First/Last Day instant printable photo props for each grade or you can order a set of hard copies (no year on print, so siblings can use it!).
Straighten It Up
I'm always dealing with painful mouth sores from accidental bites to my lips and cheeks due to misalignment. So, a few weeks ago I decided to bite the bullet (and hopefully no more lips!) and got braces at Habern Orthodontics. Go HERE and watch the whole experience. Right now, they're offering an exclusive savings just for my readers…$500 off a complete set (that's a huge savings!). Visit their website or call (972) 539-8295 to make an appointment and claim this awesome deal. Office located in Sanger and Flower Mound.
And even though I may feel like a 16-year-old again, at least with clear braces, I don't look like one. You can barely see mine…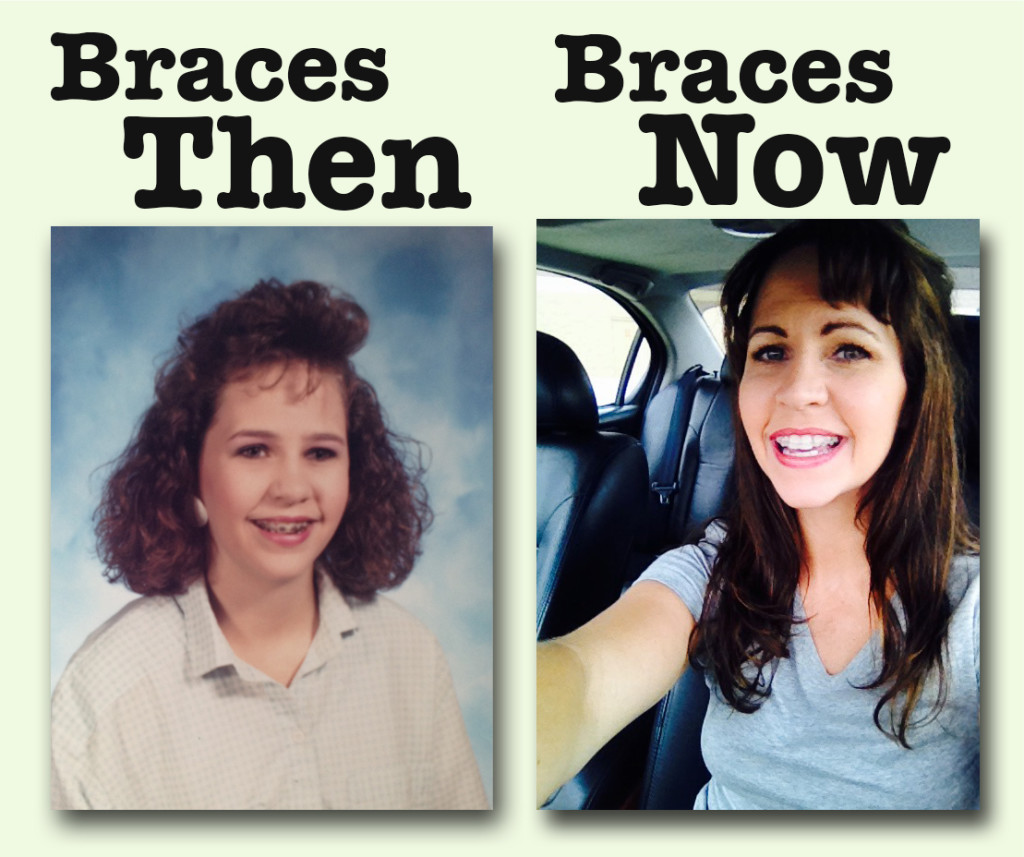 (And check out those sweet bangs!)
Cut it Up
During the entire month of August, Remington College is offering FREE haircuts for kids and teens (up to age 17). Click HERE for more info and to find a location near you.
In Dallas?  Call The Salon at Remington at 972-698-3890 to schedule an appointment, but they accept walk-ins. The hours are Tuesday – Friday, 9:30 a.m. – 1 p.m. or Saturday, 9 a.m. – 1 p.m. Located at 1640 Eastgate Dr. in Garland.

Make an appointment at your local JCPenney salon where you can get a kid's hair cut for just $10.  This offer is limited to kids in grades K – 6th grade only. Go HERE to print your coupon.
Valid through August 31, 2015.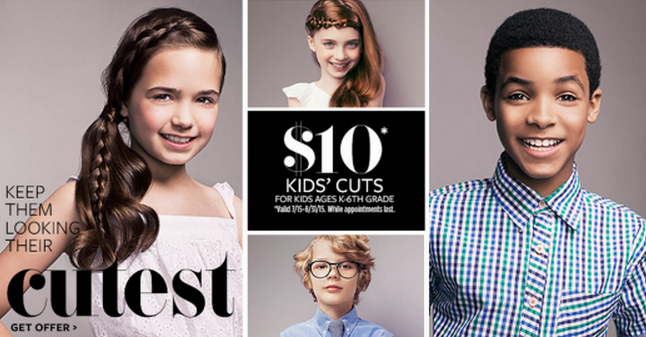 Eat It Up
Bring in NEW School Supplies to Café Brazil and get a $10 Café Brazil Gift Card for your next visit. Last year, I took my boys there for lunch and each of us got a $10 gift card in exchange for a bunch of school supplies I picked up super-cheap with price matching at Target! Cafe Brazil is one of my favorite places. Their food is always incredible and the atmosphere is really cool. They have 11 D/FW Locations.
Go HERE for more info.