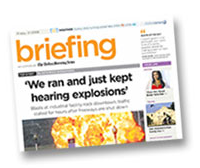 The Sunday paper is a great resource for good coupons. But with subscription prices on the rise, sometimes it's not budget-friendly sign-up for a year of home delivery.
Pssst….I'll let you in on a little secret: The Dallas Morning News offers a FREE subscription to "Briefing." It's a smaller, less extensive paper that's delivered to your home Wednesday through Saturday. What's great is the Saturday edition includes the SmartSource and Red Plum coupon inserts found in the Sunday paper. That's right, FREE coupons delivered to your doorstep!!!
Keep in mind, the Saturday inserts don't include all the coupons you'd typically find in a Sunday subscription paper. But hey, they're FREE, so I'm not complaining!
Go HERE to see if your home address is eligible for delivery and start receiving your FREE coupons today! UPDATE: The "Briefing" online sign-up form has been removed. Now, you must call customer service (214-977-8333) to request a subscription. The rep then has to send an email to management for approval, since it's only available for non-DMN subscribers. This is a tedious, antiquated process; and it's likely you'll get an uninformed rep, like I did. So have fun!
Also, check your local Dollar Tree stores.  Many carry the Sunday edition of the Dallas Morning News for just $1. What a deal!
And many times throughout the year Groupon offers discounts on Dallas Morning News and Ft. Worth Star Telegram newspaper subscriptions. Go HERE to see what's available right now.

Also, check out DiscountedNewspapers.com. They sell newspaper subscriptions for over 400 newspapers across the country. Look, you can get the Ft. Worth Star-Telegram for as little as $2 per week!



Want to learn how to use manufacture coupons to save TONS on money???
Sign up for the ModMom Moments newsletter HERE and get access to Natalie's FREE "Couponing 101" class.