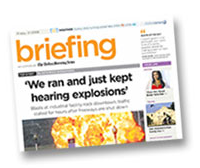 The Sunday paper is a great resource for good coupons. But with subscription prices on the rise, sometimes it's not budget-friendly sign-up for a year of home delivery.
Pssst….I'll let you in on a little secret: The Dallas Morning News offers a FREE subscription to "Briefing." It's a smaller, less extensive paper that's delivered to your home Wednesday through Saturday. What's great is the Saturday edition includes the SmartSource and Red Plum coupon inserts found in the Sunday paper. That's right, FREE coupons delivered to your doorstep!!!
Keep in mind, the Saturday inserts don't include all the coupons you'd typically find in a Sunday subscription paper. But hey, they're FREE, so I'm not complaining!
Go HERE to see if your home address is eligible for delivery and start receiving your FREE coupons today!