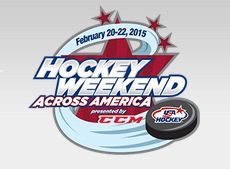 USA Hockey and over 500 local programs across the country are offering  FREE hockey and equipment use on Feb. 21st!
Valid for kids ages 4 to 9. Find your nearest participation location HERE. All locations have a limited amount of equipment available for use, so get there early.
Also, for my Texas readers, The Dallas Stars offer FREE 4-week "Little Rookies" camps throughout the year at locations in Dallas, Austin and Houston.  Go here for more info and to register.