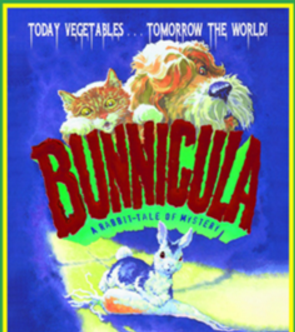 Head over to the Penguin Random House Facebook page and sign up for their newsletter to score a FREE full audiobook download of Bunnicula recorded by Victor Garber!
Offer ends 3/23 at 11:59PM ET, so get it now while you can.
This new unabridged recording of Bunnicula read by actor Victor Garber (Titanic, Sleepless in Seattle). Garber gives an educated dignity to Harold, the Monroe family dog. His voice inflections and accent changes to clearly define each character as he calmly relates the story. This is a straight reading of the text, without musical interruptions or sound effects. Each cassette side ends in silence with no direction to turn over or forward the tape. Harold relates the story of how the Monroes find a rabbit at a showing of Dracula. They bring the bunny home and name him Bunnicula. Chester, the cat, soon suspects that Bunnicula is a vampire rabbit and takes it upon himself to rid the house of the cursed bunny. With the reluctant help of Harold ,they torture the rabbit with garlic, and unsuccessfully attempt to pound a raw steak through Bunnicula's heart. In the end, it is up to Harold to save Bunnicula and calm the nerves of Chester. Bunnicula is a classic that shows no signs of becoming dated.