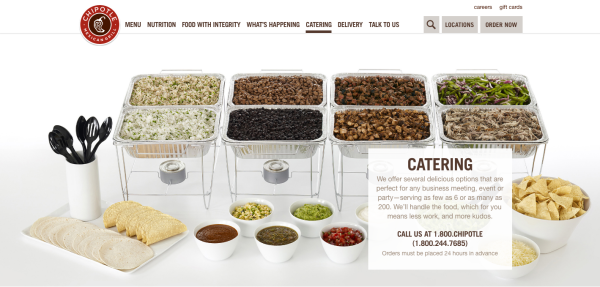 I asked an event planner what was the best catering option for graduations and events? She said hands down, Chipotle catering.  So I put her opinion to the test when we had a baseball team dinner for 20+ boys.
I needed some hearty food to fill their gullets.  When my son told the boys we were catering in Chipotle, EVERYONE came early to make sure they got their fair share. Chipotle is one of my son's FAVORITE restaurants and apparently it was the other guys too! As busy parents on a Monday night and less than a week to plan, Geno and I didn't have time to think through preparing a meal.  I ordered online 24 hours before the dinner, placed an order, picked it up at the designated time and WOW…did I have a meal for the masses!
I ended up going with the two meat spread for 20 people which included the following and cost $12 per person:
steak
chicken
White and Brown Cilantro-Lime Rice
Black Beans
Pinto Beans
Fresh Tomato Salsa (mild)
Roasted Chili-Corn Salsa (medium)
Tomatillo-Green Chili Salsa (medium hot)
Tomatillo-Red Chili Salsa (hot)
Sour Cream
Guacamole
Cheese
Lettuce
Chips
Crispy Taco Shells
Soft Flour Tortillas
Bowls, Utensils, Napkins
Serving Spoons & Tongs
Stands, Chafing Dishes & Fuel
The price was $12 person.  The staff was amazing and had everything ready when we got there and offered to carry it to the car for us!
Literally, I had EVERYTHING I needed to set up a meal and I was able to have it ready in less than 15 minutes flat!  I added a fruit tray, some homemade brownies, and drinks.  And bam, I was ready for the onslaught of boys!
Now I have to admit, I'm a sucker for their chips and that was my main course for the night as I wanted to make sure the guys were fed first. And as usual,  the guacamole was fresh and delicious.
Since the catering includes shredded lettuce and cheese, we were able to make great salad sides along with the meal.
I can't say enough about the fresh ingredients and the yummy meat.  I think the empty trays in 30 minutes flat speaks for itself.   The only thing I would have done differently is added an extra meat tray to the catering as these boys mowed through the meal quickly, plus we were hoping for some leftovers (LOL)!
They guys were so thankful for the food as team dinners in the past had mostly been burgers and dogs.  This was a great switch for them as all these boys LOVE Chipotle. The party was a success and the guys spent the night bonding as a team.
Oh and one side note. if you haven't tried the roasted chili-corn salsa, that is a MUST.  It's blended with roasted poblano peppers, jalapeno peppers, red onions and freshly chopped cilantro.  I had some leftover and put it on my salad the next day!  OOOOOOH YUMMY!
I sincerely thank the event planner for recommending Chipotle Catering for parties and for Chipotle for providing a portion of the meal after my request.  The planner was spot on and I WILL BE BACK for graduation!
These opinions are 100% authentically my own!