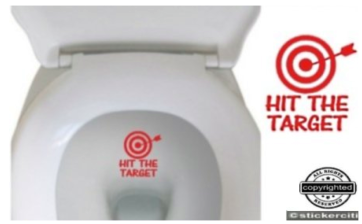 Are you in the midst of potty training a boy? Get this "Hit the Spot" Toilet Training Decal Target for only $2.45 w/ FREE shipping! Man, I wish I'd had this when my three boys where potty training.  This would've save me a lot of scrubbing!
And while you're at it, get the Put Me Down Toilet Decal for only $1.95
Both of these items come with a bonus Glow-in-dark switchplate Monster Decal…which seems kind of creepy. Buy hey, it's FREE!