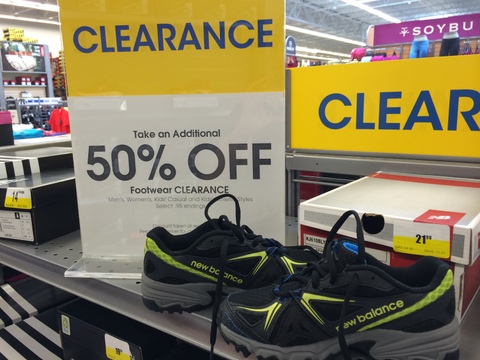 Oh, my. I was out this morning (trying to miss the ensuing Tax-Free Weekend busyness) and stumbled upon an AWESOME in-store only sale at Academy. All their clearance Kid's shoes are an additional 50% off…and there were tons from which to choose. Be sure to check your local store for this great sale. Also, don't be afraid to ask the employees to check the back-stock. When I showed up at my store, the employees had just pulled a bunch from the back and set them out.
My three boys go through tennis shoes like they're disposable paper plates!  OK, that doesn't really make sense, but I think you get my point.  We buy a lot of tennis shoes…like, every six months, for every boy.  I used to get annoyed with the frequency, but then I realized something. Unlike girls, who have a rotation of 5-10 different pairs of shoes, my boys wear the same exact shoes every day. Every. Single. Day…so, of course, they're going to get worn out and destroyed.
So, why did I tell you all that?  Because I bought 13 pairs of shoes this morning. Gasp. I felt like one of those crazy "shelf clearers" from TLC's Extreme Couponing. But when I could get Nike, New Balance and Addias shoes for just $10-$15 a pair, it was just wrong not to!  So, I just guessed at whatever shoe sizes my boys will probably need over the next 2-3 years and now we are set.  I paid $163.87 and NO TAX, so it averages out to just $12.50 per pair!!!
Addidas Trail Runners – Reg. $39.99. I paid $14.99
Nike Revolution – Reg. $34.99.  I paid $9.99
I think when people looked in my cart and saw all these, they thought I was an employee restocking shelves.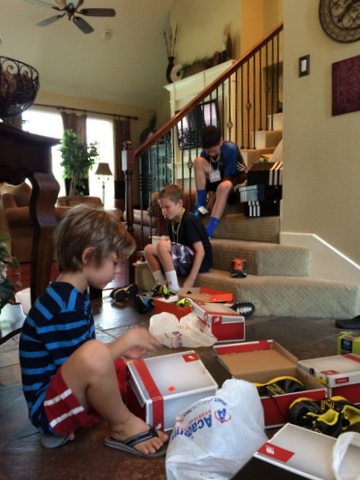 This was the scene when we got home.  Boxes, shoes and bags everywhere. Utter chaos. But so much fun!  Now, where to store these things for the next few years….