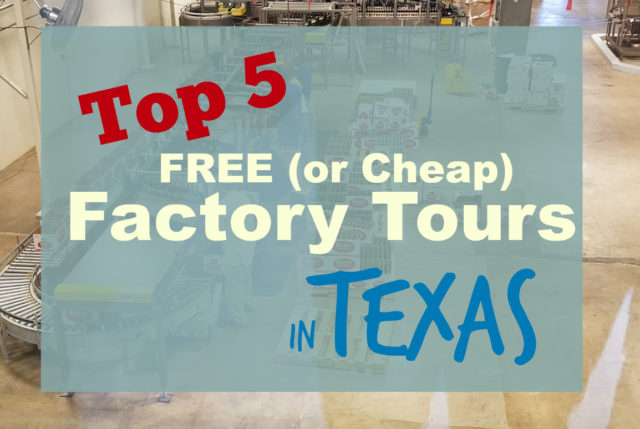 FREE Texas Factory Tours
Bureau of Engraving and Printing
Did you know that over half of the nation's currency order is produced in Fort Worth at the Bureau of Engraving and Printing. Take a FREE 45-minute self-guided tour where you'll see billions of dollars being printed as you walk along an enclosed walkway suspended over the production floor. There are two floors of interactive exhibits showcasing the history of currency and the intricacies of the printing process.
Hours of Operation: Tuesday through Friday, 8:30 a.m. to 5:30 p.m.
Reservations are not required.
More info HERE.
Find it on Google Maps HERE and plan your trip.
---
San Antonio Shoe Factory
Did you know that the production of a pair of shoes can go through up to 100 different steps, performed by approximately 80 different pairs of skilled hands before they are ready to hit the store shelves?
And you can see exactly how shoes are made at the SAS Shoe Factory in San Antonio. It's one of the few remaining shoe factories in the U.S. and they offer FREE tours to the public.

Tours are available Monday through Thursday at 9:15 AM, 12:30 PM, and 2:05PM. Call (210) 921-8103 and reserve your free tour today!
Also, be sure to visit the SAS General Store. It's like a flashback to the 1950's with beautifully restored vintage automobiles along side handmade soaps and jellies, jewelry and accessories, leather handbags, wallets, and belts, and plenty of toys, games, and books for the children. They have candy and ice cream available for purchase as well as 5 cent popcorn!
The SAS shoe factory and General Store are located at 101 New Laredo Hwy, San Antonio, Texas. Store hours:
Monday – Friday 9:00 AM to 6:00 PM
Saturday – 9:00 AM to 5:00 PM
Sunday – closed
Find it on Google Maps HERE and plan your trip.
---
Wimberley Glass Works
Come watch the Wimberley Glass Works artisans use age-old techniques to create beautiful works of art from molten glass. You'll be amazed!
Hours: Sep 1st – May 31st* Tue – Sat:  10am – 4:30pm  Sun:  12pm – 4:30pm
Closed on the day of Thanksgiving, Christmas, New Years and Easter
*Will have glassblowing demonstrations Monday, March 13th during Spring Break
Jun 1st – Aug 31st  Tue – Sat:  10am – 3:30pm  Sun:  12pm – 3:30pm
There is no fee for watching the glassblowing demonstrations and you can come and go at your convenience.
Go HERE for more info.
Find it on Google Maps HERE and plan your trip.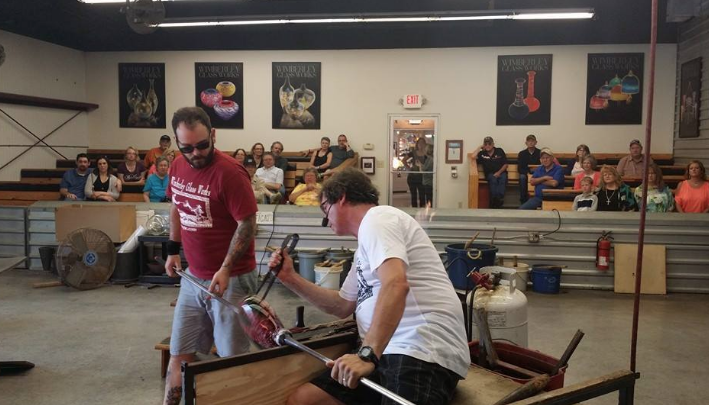 ---
The historic Dublin Bottling Works is one of the oldest producers and distributors of bottled soda in the United States, with a legacy dating back more than 120 years. Watch the video below to see how they rebounded after a losing the ability to produce their popular Dublin Dr. Pepper.
Visit Old Doc's Soda Shop to take a tour of the bottling plant and see some vintage Dr Pepper memorabilia. Included in the tour, you'll get to enjoy your own bottle of soda and unlimited sample of all flavors of their 12 cane sugar sodas.
Tours begin at 10:15 a.m. and run every 45 minutes until final tour at 4:15 p.m.
Price is $5 for adults,
$4 for kids and seniors.
For group tour reservations
and rates call 888-398-1024.
Find it on Google Maps HERE and plan your trip.
---
Shiner Beer Brewery
Since 1909, every drop of Shiner Beer has come from the Spoetzl Brewery. Take their FREE factory tour to learn the history of Texas' most popular craft beer. And make sure to remember your I.D., so you can enjoy the beer tastings.
Brewery Tours (closed weekends)
Winter Hours (September – May)
Monday – Friday, 11 a.m. – 1:30 p.m.
Summer Hours (June – August)
Monday – Friday 10 a.m., 11 a.m., 1:30 p.m., 2:30 p.m.
The Brewery and Gift Shop are closed for the holidays on these dates: January 1st, January 2nd, April 14th – April 16th, May 27th – May 29th, September 2nd – September 4th, November 23rd – November 26th, December 24th – December 26th.
Go HERE for more info.
Find it on Google Maps HERE and plan your trip.