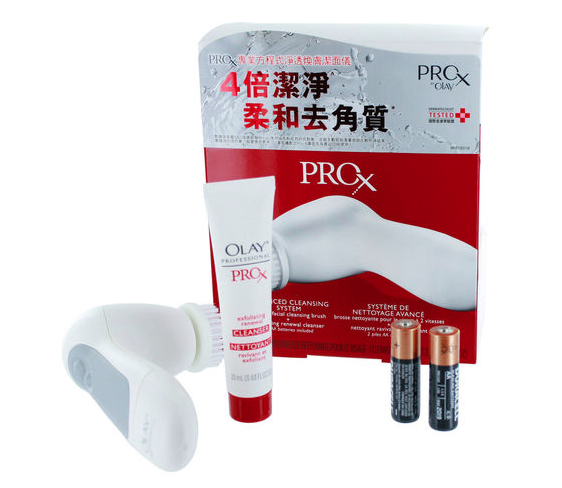 Head over to Shnoop and score this Olay Professional Pro-X Advanced Cleansing Exfoliating System only $14.99 w/ FREE shipping! As a price comparison, this item is currently selling for $24.99 on Amazon.
(FYI…don't be scared off the the packaging. Olay has a foothold in China and other Asia Pacific markets. This isn't a knockoff. Read about Olay here.)
Description: Take your facial cleansing routine to a whole new level. ProX by Olay Advanced Cleansing System delivers superior cleansing on hard-to-remove makeup. The 2-speed rotating facial cleansing brush massages the ProX by Olay Exfoliating Renewal Cleanser onto the skin. The lathering formula thoroughly cleans as it gently exfoliates. The system was professionally designed to deliver proven results. Just rub cleanser onto your skin and let the power of the Facial Cleansing Brush go to work. Each rotation gently exfoliates and cleanses hard-to-remove makeup, leaving your face clean and primed for hydration. In fact, the ProX by Olay Advanced Cleansing System is designed to maximize the immediate hydrating effectiveness of your anti-aging moisturizer. With 2 speeds, you can control how the cleansing brush treats your skin. Plus, it's water resistant, making it perfect for use in the shower. When used with the Exfoliating Renewal Cleanser, your skin will feel smooth and refreshed.
Features:
Facial Cleansing System delivers superior cleansing on hard-to-remove makeup
Cleanses skin 6 times better to basic cleansing
Helps maximize the immediate hydrating effectiveness of your anti-aging moisturizer (not included)
Designed with 2-speed rotating system that delivers daily deep cleansing and gentle exfoliation
Water resistant
Replaceable soft bristle brush head
ProX by Olay Exfoliating Renewal Cleanser renews skin texture for a refreshed, smooth feel
Powered by 2AA batteries (included)
What's in the box:
2-speed Facial Cleansing Brush
Cleansing Brush Head
Exfoliating Renewal Cleanser (0.68 fl. oz.)
2 AA Duracell batteries