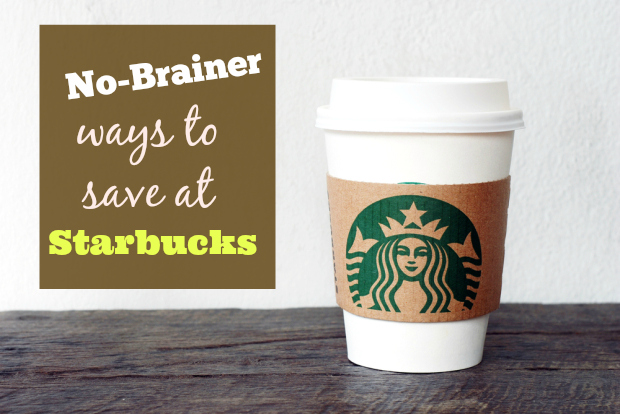 Are you a Starbucks junkie? Oh, it is a treat alright, but it can also put a serious dent in your wallet with each visit! Here are 10 ways to save money at Starbucks every time you go.
Save time and money with the app: Just in time for pumpkin spice latte season, Starbucks is letting coffee drinkers order and pay for their coffee with a few taps on their smartphone. The app works like this: Java junkies pick a Starbucks location on their app, enter their order, pay for it, and then pick up their drink at the bar area at the estimated time. Plus, when you use the Starbucks app, the points add up fast for app users who are frequent Starbucks visitors, scoring free drinks, alongside other perks like free drinks on your birthday.
Make it a Misto: Order An Iced Misto Instead of an Iced Latte. The cafe Misto is made of of half coffee and half milk. It is not only cheaper, but also has less calories! Get a cheaper chai latte by ordering a hot chai tea, then ask them to fill it up with hot milk, which will cost you an extra 60 cents. Not only is it cheaper, but it's less sweet.
Split with a friend or get the "secret size": Want a Frap? A Venti-size one (24 ounces) will set you back $4. A tall (12-ounce) Frappuccino costs $3, so if you split the Venti Frappuccino into two tall cups and share one with a friend, you'll be saving yourself $1 each. Starbucks also has more sizes than what is on the menu. The secret is they actually have a size called a short that is only 8 oz. The short size appears on the menu as a kid's size but you can actually order any drink in this size. So next time you don't need a full 12 oz cup of coffee and want to save a little cash just say, "Give me the secret size." Either that or you can just ask for the short.
Consider the free shaker flavors: You can shake as much cinnamon, chocolate, nutmeg or vanilla at every counter instead of paying for that extra shot of vanilla.
Ask for light Ice: Ask your barista to go "easy on the ice" and if you regularly drink an iced medium beverage. If you regularly drink a large (or Venti), ask for a Grande and enjoy a medium with almost the same amount of beverage while saving serious cash.
Order Iced Water: Who needs bottled water at Starbucks as the water at Starbucks may even be cleaner. The ice and water used in Starbucks is triple-filtered!
Refills aren't just for coffee: For only 50 cents you can get a refill all day long on iced coffee, or iced tea. Rewards members get FREE refills!
Buy discount Starbucks cards: As long as the retailer is reputable, used and reloaded Starbucks cards (usually with odd amounts like $34.10 instead of $40) bring huge savings. I personally use Raise.com.
Bring your own mug: The $0.10 discount per drink may not seem like much but if you go to Starbucks all the time, the savings will add up.
Starbucks on Social Media: Following Starbucks on Twitter or liking them on Facebook will put additional discounts on your radar like half-price Frapuccino happy hour notifications, $2 treat receipts, plus more!