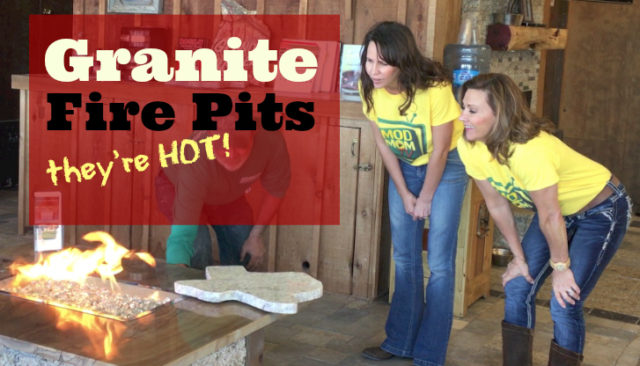 You've heard of reclaimed wood, but have you heard of reclaimed GRANITE? Watch our newest ModMomTV video where we visited Granite Huggers in Sanger, TX to see how granite scraps can be turned into really cool (make that HOT) and unique things. Plus, look below to see some special deals just for our readers!
And as we're building up this new channel, we'd love your support to help it grow:
Small Square pits 22″ inside, 34″ outside ~ Reg $199 (ModMomTV Price, $179)
Small round fire pits 22" inside 34" outside – Reg $149 (ModMomTV Price, $129)
Granite split stone reg $9 sq ft    (ModMomTV Price, $7.50 sq ft)
Texas Lazy Susan  reg $149  (ModMomTV Price, $125
Corian wine bottle display reg $19 (ModMomTV Price, $15)
You can call Steve at (972) 670-4533, leave contact information here,  or email ([email protected]) and tell him I sent you to get this price!
Plus Granite Huggers is good for the environment!  They use granite that other companies were sending to the land fill.  With those piece they make granite pavers, granite fire pits, and granite split stone.
They also get bigger pieces that companies were throwing away and are fabricating and installing bathroom vanities and small kitchens.
Now, Granite Huggers has full size slabs of granite and fabricate and install whole houses utilizing all of the waste to make the pavers, fire pits, and split stone.
Soon they will be making granite gravel so nothing will be going to the land fill.