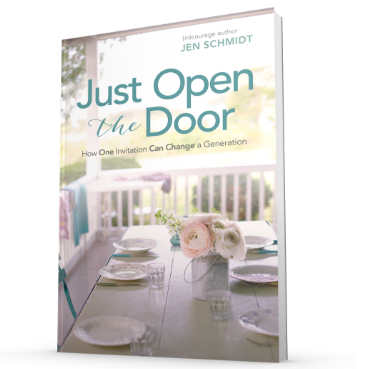 One of my favorite things to do is host parties, game nights or small group bible studies. But for some of you, inviting people into your home is daunting and dreaded task.
Author, Jen Schmidt has a new book entitled, Just Open the Door. It's shares how you can use your gift of hospitality to change the world.
And when you pre-order a copy before 11:59pm TODAY, April 9th, you'll get:
"Our home is a place where real life happens, where are souls can breathe, and where the door swings wide open."
The first 7 chapters to read digitally.
A beautiful Our Home Is printable
And $10 in FREE shopping credit at Dayspring.com!
It's simple:
1. Buy the book from Amazon (or a retailer of your choice)
2. Come to the Just Open the Door website and click "claim bonuses" at the top.
3. Fill out the claim form (including your receipt number) and your bonus items will be emailed to you immediately.
The $10 in DaySpring credit is good on ANY order if ANY size…and you can use it right away!